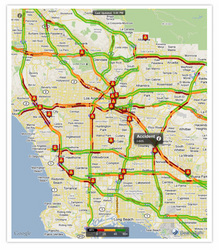 Santa Clara, CA (Vocus) May 17, 2010
In news that is sure to perk up the ears of drivers, the Department of Transportation and GPS manufacturers, Triangle Software LLC - d/b/a Beat the Traffic® - has earned a key patent for software that will help predict the average speed of any given section of road. Depending on the time of day, the day of the week and the particular length of roadway, this new technology will inform drivers of what they can expect if they take that route. In this way, drivers can be more informed and can make more intelligent decisions about drive times and route planning.
Save Time, Aggravation - And Be Green While Doing It
Beat the Traffic®'s innovative patent will not only help people be savvier drivers - it will also help them do their own part to help the planet. As noted by Andre Gueziec, Beat the Traffic®'s founder and CEO, "This new patent recognizes a breakthrough innovation by Beat the Traffic®. Vehicle traffic patterns may be generated using GPS data, and this information may be used to provide more efficient routes depending upon the time of day and day of week, so travelers can take smarter routes using less time and gazoline and reduce their carbon footprint."
Lessen Your Impact On The Planet And Get Where You're Going More Quickly
Every minute spent idling in traffic jams is a minute spent polluting the planet unnecessarily. All you have to do is look at a backed-up freeway, and you can easily see the excessive concentration of exhaust fumes that fill the air. By consulting with software designed using Beat the Traffic®'s new traffic prediction patent (U.S. patent number 7,702,452), you can steer clear of roadways that are the most likely to be clogged with traffic on any given day.
Be A More Sophisticated Driver With Beat the Traffic®
Thanks to forward-thinking technology like Beat the Traffic®'s latest traffic prediction patent, today's drivers have easier access to more useful information than ever before. This patent takes raw data and transforms it into something that is relevant and exceptionally helpful to drivers. Avoiding congested freeways and other roads means arriving on time more consistently, and keeping your vehicle moving means doing less harm to the planet. When you rely on Beat the Traffic®'s state-of-the-art technology, you can feel good about doing your own small part to help protect Earth's fragile environment - and never miss another important meeting again.
About Beat the Traffic®
Based in Santa Clara, CA, Triangle Software LLC d/b/a Beat the Traffic® is the fastest-growing provider of vehicle traffic reporting solutions. Acclaimed for its visually-striking graphics, simple setup and user-friendly interface, Beat the Traffic® received the Television Broadcast magazine's NAB Top Innovation Award. Triangle Software is a National Science Foundation funded early innovator in traffic prediction and presentation science. The Beat the Traffic® technology is protected by U.S. Patents Nos. 6,989,765, 7,161,497, 7,221,287, 7,375,649, 7,508,321, 7,557,730, 7,610,145 and 7,702,452. Visit our youtube.com/beatthetraffic channel and follow us on Twitter at twitter.com/btt3d or Facebook at facebook.com/beatthetraffic.
For more information please visit http://www.beatthetraffic.com or contact:
Andre Gueziec
Beat the Traffic® - Triangle Software LLC
408-777-6521
###