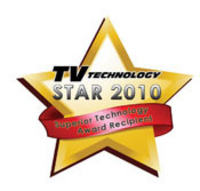 Every year, the NAB Show serves as the launching pad for thousands of new products and services for audio and video professionals
Santa Clara, CA (Vocus) April 27, 2010
Beat the Traffic® is the recipient of the 2010 STAR (Superior Technology Award Recipient) Award presented by the editorial staff of TV Technology magazine at the 2010 NAB Show.
Now celebrating its 10th anniversary, TV Technology's STAR Award is designed to honor and showcase the outstanding technological innovations available to the broadcast industry. A panel of judges consisting of TV Technology editors and columnists reviewed a variety of products, examined the technical applications and their overall contribution to the industry, and then submitted their award nominees.
Beat the Traffic®'s leading new touch screen technology is clearly the latest break through for on air traffic reporting which makes their system more uniquely intuitive and interactive with the simple "touch of a finger". The interface allows a traffic reporter to activate simple commands; start or advance their sequence; move and drag a map; zoom in and out; tilt the view; as well as "touch a hot spot" such as a traffic incident, a live traffic camera or reveal new text information, all with the simple touch of the screen.
"Every year, the NAB Show serves as the launching pad for thousands of new products and services for audio and video professionals," said Tom Butts, TV Technology Editor. "Our panel of editors walk the show floor in search of the most innovative technologies. The products and services that we select for the STAR Award make the cut-they demonstrate their ability to help advance the acquisition and distribution of entertainment and information across the media spectrum."
TV Technology is the industry's leading magazine for technology news and reviews and is celebrating its 27th year covering the television industry. The magazine is published by NewBay Media LLC, the world's largest publisher of audio and video publications.
Availability
Beat the Traffic® Touch Technology will be available as an option in BTT3D 6.1, the latest version of Beat the Traffic® to be released in June 2010. The Beat the Traffic® Touch Screen option is also available as a paid upgrade for existing Beat the Traffic® customers.
About Beat the Traffic®
Based in Santa Clara, CA, Triangle Software LLC d/b/a Beat the Traffic® is the fastest-growing provider of vehicle traffic reporting solutions. Acclaimed for its visually-striking graphics, simple setup and user-friendly interface, Beat the Traffic® received the Television Broadcast magazine's NAB Top Innovation Award. Triangle Software is a National Science Foundation funded early innovator in traffic prediction and presentation science. For more information please contact Andre Gueziec at (408) 777-6513 or visit beatthetraffic.com or trianglesoftware.com. The Beat the Traffic® technology is protected by U.S. Patents Nos. 6,989,765, 7,161,497, 7,221,287, 7,375,649, 7,508,321, 7,557,730, 7,610,145 and 7,702,452. Visit our youtube.com/beatthetraffic channel and follow us on Twitter at twitter.com/btt3d or Facebook at facebook.com/beatthetraffic.
For more information please visit http://www.beatthetraffic.com/tv.aspx or contact:
Andre Gueziec
Beat the Traffic® - Triangle Software LLC
408-777-6513
###