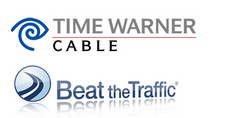 Beat the Traffic® reinforces our unique commitment to hyper-local community coverage
Austin, TX (Vocus) April 6, 2010
Time Warner Cable's 24-Hour Central Texas News channel, News 8 Austin, unveiled its innovative new traffic reporting solution from Beat the Traffic®. News 8's Beat the Traffic ® will provide real-time traffic flow, speed data, road conditions, and travel forecasts in a striking 3D animated presentation. The new service will be exclusive to Time Warner Cable subscribers on News 8 Austin and soon on their 24-Hour traffic channel, News 8 Traffic Now (channel 348).
"Beat the Traffic® reinforces our unique commitment to hyper-local community coverage", said Kevin Benz, News 8 Austin News Director. "As the leader in around-the-clock coverage of news, government, weather and sports, we're now the first to offer Beat the Traffic's real-time traffic data, true highway speeds and point-to-point trip times. Our viewers will also love the easy to follow 3D graphic experience."
While Austin ranks as the 48th largest television market in the nation, it is the 24th most congested city for traffic in the nation, according to the 2009 Urban Mobility Report. The study estimated that commuters in the area spend an average 39 hours per year idling away 27 gallons of fuel sitting in traffic. News 8 Austin's Beat the Traffic® intuitively visualizes the current speed of traffic at each relevant location, making it a valuable tool for commuters and travelers seeking a faster and more economical route.
"We are extremely pleased to expand our partnership with Time Warner Cable in Austin," said Andre Gueziec, President & CEO of Triangle Software, the company that operates Beat the Traffic®. "This is the fourth city where Time Warner Cable has chosen our system and we are delighted to work closely with their wonderful teams and customize the system to create a striking, viewer-friendly experience in each of their markets."
"We also chose Beat the Traffic® for our YNN (Your News Now) news channels in Rochester and Buffalo, New York", said Time Warner Cable Regional Vice President Steve Paulus. "Time Warner Cable has a strong presence in each of these markets and our investment in Beat the Traffic® has made our news channels even more indispensable to our subscribers."
News 8 is Central Texas first and only 24-Hour News channel providing convenient around-the-clock coverage of Local News, Weather on the Eights, Traffic and Sports to over 500,000 Time Warner Cable subscribers in the Austin and Waco television markets. News 8's family of channels includes Non-stop Weather, Non-stop Weather in Espanol, Non-stop Sports, Weather Radar Now and Traffic Now. All providing 24-Hour convenience to a busy, high tech community.
For More Information Contact:
Time Warner Cable:
Steve Paulus
212.379.3700
Beat The Traffic:
Andre Gueziec
408.777.6514
About Time Warner Cable
Time Warner Cable is the second-largest cable operator in the U.S., with technologically advanced, well-clustered systems located in five geographic areas - New York State (including New York City), the Carolinas, Ohio, southern California (including Los Angeles) and Texas. Time Warner Cable serves more than 14 million customers who subscribe to one or more of its video, high-speed data and voice services. Time Warner Cable Business Class offers a suite of phone, Internet, Ethernet and cable television services to businesses of all sizes. Time Warner Cable Media Sales, the advertising arm of Time Warner Cable, offers national, regional and local companies innovative advertising solutions that are targeted and affordable. More information about the services of Time Warner Cable is available at timewarnercable.com, twcbc.com and twcmediasales.com.
About Beat the Traffic®
Based in Santa Clara, CA, Triangle Software LLC d/b/a Beat the Traffic® is the fastest-growing provider of vehicle traffic reporting solutions. Acclaimed for its visually-striking graphics, simple setup and user-friendly interface, Beat the Traffic® received the Television Broadcast magazine's NAB Top Innovation Award. Triangle Software is a National Science Foundation funded early innovator in traffic prediction and presentation science. Visit beatthetraffic.com or trianglesoftware.com. The Beat the Traffic® technology is protected by U.S. Patents Nos. 6,989,765, 7,161,497, 7,221,287, 7,375,649, 7,508,321, 7, 557,730 and 7,610,145. Visit our youtube.com/beatthetraffic channel and follow us on Twitter at twitter.com/btt3d and on Facebook at facebook.com/beatthetraffic.
###