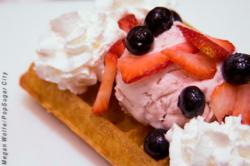 San Francisco, CA (PRWEB) July 28, 2011
When Mike Cappelle moved to San Francisco from Belgium, he was hard-pressed to find an authentic Belgian waffle anywhere in the City—so he had to do something. That something has turned out to be the Westfield Centre's new sweetheart, Bloem 'n Sugar.
The sugary-smelling Westfield Mall restaurant is located in Suite C28B on the Concourse level, just steps from the Powell Street BART Station. Aromatically intoxicated commuters stop and grab what some would call the best breakfast in San Francisco all day long.
Unbeknownst to most Americans, there are actually two types of Belgian waffles: Brussels and Liege. The rectangular Brussels waffle is light and crispy with hints of vanilla in a house-made batter that's more savory than sweet. It's the perfect match to any of dozens of toppings, from berries to bacon.
The oval-shaped Liege waffle, "the other Belgian waffle," is a heavier, chewier option made with yeast-leavened dough imported from Belgium. Its key ingredient is a pearl sugar that caramelizes when it cooks, making it dense and sweet.
The Bay Area Belgian Waffle restaurant offers BYOB (build your own Belgian) or a choice of six signature combinations, including "the Bananutella" and "the Speculoos," topped with a caramel-ginger spread made from Speculoos cookies, whipped cream, and Speculoos cookie crumbs. Paired with Dutch Douwe Egberts coffee, a waffle from Bloem 'n Sugar will make commuters feel like they just stepped off Eurail instead of BART.
For more information about Bloem 'n Sugar, call (415) 766-0141 or visit them on Facebook at http://www.facebook.com/BloemnSugar.
About Bloem 'n Sugar
Bloem 'n Sugar is a San Francisco Belgian waffle shop located in Westfield Centre that serves both Brussels and Liege waffles, a variety of European toppings, Douwe Egberts Dutch coffee and Double Rainbow ice cream.
###