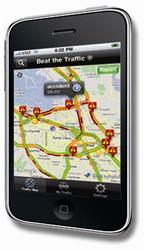 We are thrilled to offer this innovative tool to our US and Canadian users. This is the first app to mix traffic, weather information and personalization
Santa Clara, CA (Vocus) December 15, 2009
Beatthetraffic® is an iPhone application which compiles data from diverse sources to provide users with accurate traffic data in real time as well as short term traffic forecasts.
Users can view detailed information for over 100 cities in the US and Canada and check Miami traffic or Vancouver traffic. The transportation departments of 33 cities have also included their live traffic camera images, allowing users to view traffic in points along their route in real time. Camera locations are pin-pointed on the map, giving users a geographical context for traffic camera images.
Available features include graphs that show traffic volume along routes at various times of the day and night. Weather and traffic map data is combined to give users the most accurate picture of traffic and weather conditions simultaneously.
The map shows color-coded information, showing users areas of congestion and the exact locations of accidents, construction, or other events that can cause delays.
Beat the Traffic® also takes into account local events that may affect traffic conditions including sporting events, conventions, and concerts. If there are events specific to an area, Beat the Traffic® also provides this information in detail. Examples of these events are Mardi-Gras in New Orleans or the Latter-Day Saint's biannual church conferences in Salt Lake City.
Construction and accident information is highly detailed and comes directly from the source, giving users the best chance of finding faster alternate routes.
Users of Beatthetraffic® also participate in the process, anonymously joining with millions of other users in providing data that will help others on their way.
This method of gathering data, known as crowd-sourcing, adds the benefit of data gathered on the phones and navigation systems of actual drivers currently on the roads and highways. This provides more immediate, accurate, and timely data than traditional methods. Crowd-sourced data transcends traditional traffic information, giving travelers an up-to-the-second picture of traffic conditions.
While the Beat the Traffic® software application covers several cities all over the country, users can save their favorite routes, cities, and regions. This makes the information users need instantly accessible and personalized to their preferences. While the App is completely free and complete without the personalization feature, the My Traffic personalization is a subscription add-on for $19.95 per year, which is less than 5 cents per day. There is a two week free trial. My Traffic works across the http://www.beatthetraffic.com website and on web-enabled mobile phones as well.
"We are thrilled to offer this innovative tool to our US and Canadian users. This is the first app to mix traffic, weather information and personalization", says Andre Gueziec, President & CEO of Triangle Software LLC who operates Beat the Traffic®. Reviews have been very encouraging: "Love the Application" "Best Traffic App Ever" "An Everyday App"
About Beat the Traffic®
Based in Santa Clara, CA, Triangle Software LLC d/b/a Beat the Traffic® is the fastest-growing provider of vehicle traffic reporting solutions. Acclaimed for its visually-striking graphics, simple setup and user-friendly interface, Beat the Traffic® received the Television Broadcast magazine's NAB Top Innovation Award. Triangle Software is a National Science Foundation funded early innovator in traffic prediction and presentation science. For more information please contact Andre Gueziec at (408) 877-6600 and visit beatthetraffic.com and trianglesoftware.com. The Beat the Traffic® technology is protected by U.S. Patents Nos. 6,989,765, 7,161,497, 7,221,287, 7,375,649, 7,508,321, 7, 557,730 and 7,610,145. Visit our youtube.com/beatthetraffic channel and follow us on Twitter at http://www.twitter.com/btt3d.
###