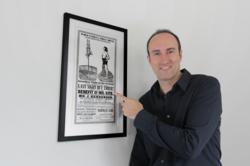 I had all the words staring me in the face one day when I was looking for a song … I hardly made up a word.
– John Lennon
London, UK (PRWEB UK) 8 October 2012
The Victorian circus poster that inspired John Lennon to write the song Being for the Benefit of Mr. Kite! has been recreated by a British designer as part of the Beatles' 50th anniversary celebrations.
Lennon bought the poster—advertising Pablo Fanque's Circus Royal—from an antiques shop in 1967. It hung in his music room where it provided inspiration while he was writing for Sgt. Pepper. Initially banned by the BBC for what it believed were drug references, much of the ornate language of the song was actually taken straight from the poster. Lennon said, "I had all the words staring me in the face one day when I was looking for a song … I hardly made up a word."
Peter Dean, a designer from London, has now painstakingly recreated this poster. He explains, "As a lifelong Beatles fan I thought it would be fantastic to own a copy of the Mr. Kite poster. As a designer, however, I couldn't accept the poor imitations I found elsewhere. So I knew it had to be done properly."
That meant employing the same traditional printing methods used to create the original poster in 1843. So Dean collaborated with a wood-engraver to reproduce the illustrations and a letterpress printer to match the Victorian metal and wooden typefaces on the original.
Notable British wood-engraving artist Andy English was called upon to recreate the two circus characters on the poster, while Graham Bignell, who runs New North Press in Shoreditch, London was given the task of printing the poster, based on his letterpress expertise and extensive collection of Victorian type. Of their contributions, Dean says, "I feel privileged to have worked with Andy and Graham. I believe that Andy's meticulous engravings combined with Graham's skill and knowledge have truly captured the qualities in the original poster that so fascinated John Lennon."
Dean's project has also captured the imagination of London based film makers Nick Esdaile and Joe Fellows. The two film makers have produced a beautifully-shot short film about the poster's re-creation.
The end result is something that any avid Beatles fan would love to hang on their wall. In Dean's words, "Early interest has been phenomenal – everyone who has seen it wants one. It's an exquisite print in its own right, but it's the Beatles connection that makes this so desirable."
The poster, printed in a limited edition of 1,967 to commemorate the release date of Sgt. Pepper, is available exclusively at kiteprint.com.
# # #
John Lennon with the original poster: http://www.gettyimages.co.uk/detail/news-photo/photo-of-john-lennon-posed-at-tittenhurst-home-during-news-photo/85360687