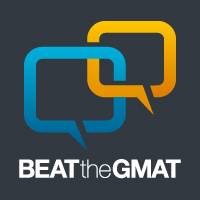 Featuring 6 MBA scholarship packages worth over $11,000
San Francisco, CA (PRWEB) March 07, 2012
Beat The GMAT today launched its annual scholarship competition for business school applicants. This MBA website will be distributing six applicant scholarship packages worth over $11,000.
Beat The GMAT is the largest social network for MBA applicants in the world, serving 2.2 million people in the last year. This is the seventh year that this online community has offered a scholarship for aspiring business school students.
"Giving back to the community is an important part of our mission," says Eric Bahn, Founder of Beat The GMAT. "We believe that our annual scholarship is an important initiative to help talented individuals achieve their dreams of going to an amazing business school."
Since 2006, Beat The GMAT has been able to distribute $193,000 in scholarships to MBA applicants.
For the 2012 competition, Beat The GMAT will distribute six scholarship packages that each include a $250 voucher for GMAT registration fees, a full GMAT test prep course and MBA admissions consulting services. The following companies made generous donations to make these prizes possible: Admit Advantage, Clear Admit, Kaplan, Knewton, Manhattan GMAT, Master GMAT, MBA Admit, mbaMission, Precision Essay, The Princeton Review and Veritas Prep.
Beat The GMAT is now accepting applications until April 23, 2012. To learn more and to apply for a scholarship, please visit: http://www.beatthegmat.com/mba/scholarship
About Beat The GMAT
Founded in 2005, Beat The GMAT is the largest social network in the world for MBA applicants, serving 2 million+ people in the last year. The website features many free resources for GMAT prep, as well as a rich applicant network through MBA Watch.