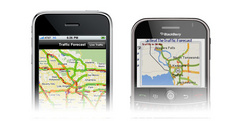 Las Vegas, NV (Vocus) April 11, 2010
In a far-reaching effort to share its distinguished brand and capture an even greater portion of the growing mobile application market, Beat the Traffic®, one of the industry's leading traffic information providers, is now offering broadcast and other media outlets the option of a co-branded partnership or their own "white label" application for mobile traffic reports available for the iPhone and BlackBerry.
Either choice allows the individual TV station or media outlet to put their own brand in the hands of millions of smart phone consumers. The Beat the Traffic® App provides its affiliates a fully turn-key platform. It's designed to expand brand loyalty while providing distinctive on-the-go access to a mobile traffic solution that is customized to the needs of their consumers. Each individual co-branded or white-label partner is positioned to monetize this application through national and local advertising.
The Beat the Traffic® App offers coverage nationwide and allows users to avoid traffic tie-ups or plan their route for a daily commute, business trip or family vacation. The App's key features include: up-to-date traffic incidents, traffic flow and speed data, point-to-point traffic forecasts and even live camera images.
Beat the Traffic®'s introduction of their latest mobile application for co-branding or white label use follows years of a proven track record providing TV, radio and cable broadcasters the most advanced cutting-edge traffic reporting technology and presentation. Their engineering research, product development and significant investment in providing an expanded platform for delivery of their traffic solution for mobile devices has resulted in a coveted partnership with the country's two largest smart phone vendors, RIM/BlackBerry and Apple/iPhone.
More than 250 million cell phones are in use in the U.S. with smart phones making up a sizable portion of the market. According to recent reports, smart phones account for more than 40 percent of all new cell phone sales with the iPhone and BlackBerry leading the way. The opportunity for media outlets to extend their brand and consumer loyalty by adding the Beat the Traffic® App is well-timed and well-positioned in the marketplace where tech-savvy affluent users are actively seeking traffic information pertaining to their daily commute and travel.
As an added feature, the Beat the Traffic® App participates in the "crowd sourcing movement", allowing users to opt-in and share GPS speed data and report traffic problems! This user-generated content will surely enhance the interactive quality of the product.
About Beat the Traffic®
Based in Santa Clara, CA, Triangle Software LLC d/b/a Beat the Traffic® is the fastest-growing provider of vehicle traffic reporting solutions. Acclaimed for its visually-striking graphics, simple setup and user-friendly interface, Beat the Traffic® received the Television Broadcast magazine's NAB Top Innovation Award. Triangle Software is a National Science Foundation funded early innovator in traffic prediction and presentation science. The Beat the Traffic® technology is protected by U.S. Patents Nos. 6,989,765, 7,161,497, 7,221,287, 7,375,649, 7,508,321, 7,557,730 and 7,610,145. Visit our youtube.com/beatthetraffic channel and follow us on Twitter at twitter.com/btt3d or Facebook at facebook.com/beatthetraffic.
For more information, please visit http://www.beatthetraffic.com/tv.asp or contact:
Andre Gueziec
Beat the Traffic® - Triangle Software LLC
408-777-6515
###