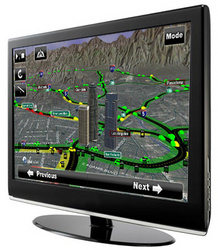 Las Vegas, NV (Vocus) April 11, 2010
Beat the Traffic® is introducing its exclusive Touch Technology to drive its award-winning on-air television traffic reporting software system.
This leading new touch screen technology is clearly the latest break through for on air traffic reporting which makes their system more uniquely intuitive and interactive with the simple "touch of a finger".
The interface allows a traffic reporter to activate simple commands; start or advance their sequence; move and drag a map; zoom in and out; tilt the view; as well as "touch a hot spot" such as a traffic incident, a live traffic camera or reveal new text information, all with the simple touch of the screen.
While in front of the Beat the Traffic® Touch Screen you even have the capability to interactively select any two locations on a map and instantly display point-to-point travel times and the most up-to-date highway speeds and road conditions. This brand new software interface truly takes advantage of the power of the data underlying the system.
Television viewers have certainly become accustomed to high definition broadcast quality with bold rich color and layers of text generated information. Striking visuals are an integral part of any program or program segment but keeping them simple and easy to understand is essential for the viewer to process and capture that information. Beat the Traffic®'s 3D animated traffic mapping system is the most colorful, most attractive, and most engaging presentation available in the industry. With its new touch screen option, each viewer will be captivated by the 3D perspective as it is manipulated creating an entertaining experience while be able to secure important information.
By placing a finger on the screen, the traffic reporter on set is able to instantly change the view by dragging the map from place to place in real-time. North or South, East or West, you are given a wide or close up view of your entire surrounding area.
Beat the Traffic®'s new touch screen also allows the reporter an option to zoom in and out on any map by using two fingers. Drill right down to street level to take a closer look at traffic incidents or zoom out in a flash for a broad overview of condition through a metropolitan area.
A simple click on the map brings up live camera images wherever they are available for a view of what's happening on the roads, highways and exit ramps in your area.
Beat the Traffic Touch Technology allows the traffic professional to create the most advanced sequences and stunning playlists which will surely captivate and enhance the viewing experience.
The innovative touch screen software provides the ability to:

Touch to start or stop a playlist as desired
Move forward or back between viewpoints
Zoom in or out to reveal current speeds
Touch and drag a 3D scene
Tilt or rotate for a 3D perspective
Reveal live camera images
Reveal an incident icon or text
Enable or disable travel time mode
Reveal instant trip times between two points
Orient the map due north
Beat the Traffic® Touch Technology is next generation touch screen technology now available in BTT3D 6.1, the latest version of Beat the Traffic®.
About Beat the Traffic®
Based in Santa Clara, CA, Triangle Software LLC d/b/a Beat the Traffic® is the fastest-growing provider of vehicle traffic reporting solutions. Acclaimed for its visually-striking graphics, simple setup and user-friendly interface, Beat the Traffic® received the Television Broadcast magazine's NAB Top Innovation Award. Triangle Software is a National Science Foundation funded early innovator in traffic prediction and presentation science. The Beat the Traffic® technology is protected by U.S. Patents Nos. 6,989,765, 7,161,497, 7,221,287, 7,375,649, 7,508,321, 7,557,730 and 7,610,145. Visit our youtube.com/beatthetraffic channel and follow us on Twitter at twitter.com/btt3d or Facebook at facebook.com/beatthetraffic.
For more information, please visit http://www.beatthetraffic.com/tv.aspx or contact:
Andre Gueziec
Beat the Traffic® - Triangle Software LLC
408-777-6515
###