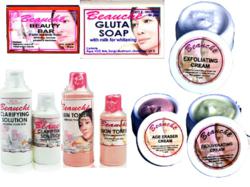 (PRWEB) April 02, 2013
The popularity of Beauche International products is increasing among Filipinos worldwide. The reason for this is the quality of skin care products that the company makes. This company was founded by its present owner Conchita Delos Reyes after she asked a chemist, a pharmacist and a dermatologist to start research in the preparation of quality skin products. They created a formulation which was perfected in the year 2005. More information about beauche products can be found at http://beaucheonlinestore.com. The site now ships sets to Dubai.
Beauche products features:

The ingredients used in the creation of these products are natural. There is minimal chance of any side effects depending of a person's skin type.
The skin care products are created to solve the problems of whiteheads, blackheads and acne. The products also solve the problems of the skin due to sun damage, dark spots and freckles.
The set consists of toner, age eraser cream, clarifying lotion, rejuvenating cream, exfoliating cream, and beauty soap.
The results of using the products are visible in about 7 days and the cost of the products is cheap when compared to other products that come from costly brands.
The products can be bought from BeaucheOnlineStore website. Buyers from the Philippines get free delivery for beauche sets orders, but the those who are outside the Philippines have to pay for delivery charges. Good news is that the products are now available in Dubai. All men and women that want to buy these products and are living in Dubai can now have these products delivered to their home address.
Beauche is a brand that is getting popular quickly. It is also generating a brand loyalty among its consumers. This is due to its high quality products.
Interested people can contact Girlee of BeaucheOnlineStore at http://beaucheonlinestore.com.