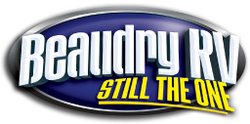 We set up this system for owners to store their RVs in the off-season
Tucson, AZ (Vocus) July 5, 2010
Beaudry RV Company introduces new storage facility and idea at Beaudry RV Resort. Many RV owners worry about off-site seasonal storage for their RVs. Today's RVs are filled with sever battery-operated systems. If the battery dies, getting systems working again can cost upwards of $2,000.00. Beaudry RV Resort has remedied that problem by offering unoccupied storage right in the resort itself, where RV owners can leave their RVs plugged in and batteries charging for $120.00 per month. As of now, there are 100 sites available for unoccupied storage.
Off-site storage is also available and runs $90.00/month but does not offer plug-in opportunities. The additional $30.00 for unoccupied storage goes not only towards charging batteries or running A/C systems, it also offers added convenience. While parks are stocking up on Park Models, which act like mini-homes for baby boomers to relax in, Beaudry RV's system turns the RV into a condo of sorts that owner can visit at any time. Owners are welcome to come out and use the storage at any point for the prevailing day rates. When the owner leaves, the rates return to $4.00/day.
"We set up this system for owners to store their RVs in the off-season," says Dennis Shew of Beaudry RV Company. "It's a win-win situation for everyone. Unoccupied storage allows us to offer services to our customers year-round and our RV owners can be confident their RVs will be up, running and ready to go whenever they show up."
Unoccupied storage is only offered during the off-season, which runs from May through Thanksgiving. Owners are welcome to store the RV year-round, however the rates of storage during the peak winter months will reflect daily pricing, currently at $34.95/day.
Beaudry RV Company has been a leader in the RV Industry for over 40 years. Their customer service, parts department and summer events set them apart from other RV companies. They carry an extensive selection RVs, travel trailers, fifth wheels and more.
For more information on Beaudry RV Company or current trends in the industry contact:
Scott Beaudry
Company: Beaudry RV Company
http://www.BeaudryRv.com
Phone: 520-239-5054
# # #