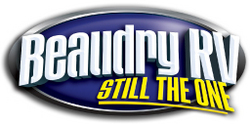 Tucson, AZ (Vocus) October 1, 2010
Beaudry RV Company temporarily shuts operations for restructuring.
On September 15, 2010, a group of investors, Beaudry RV USA, LLC, BRV Properties, LCC and Beaudry Main Street, LLC, led by Greg Harrington and Peter Workum, completed a series of transactions to acquire Beaudry RV properties and operating companies.
Mr. Workum has extensive experience in managing startup, turnaround and distressed companies. Mr. Harrington brings a real estate, investment and capital restructuring skillset to the Beaudry Group of companies.
In addition, Dundee D. Kelbel and Scott Beaudry were asked to provide the Companies with RV industry, retail and historical experience. Scott Beaudry is a 4th generation Beaudry committed to continue the family legacy in both the Tucson and Phoenix markets. Dundee D. Kelbel has over 15 years of strategic industry experience in manufacturing, retail, operations and financial matters.
The restructuring of Beaudry RV, after years of difficult market, economic and operating conditions requires extensive financial restructuring and refinancing along with the judicious reorganization and deployment of the companies capital and assets. In addition, the establishment of a sustainable corporate strategy, disciplined budgeting and controlled spending will all be critical to the success of the Beaudry Group during the turn around effort. This project is not without substantial risk and will see ultimate success of failure based primarily upon the quality and quantity of the efforts of all those involved.
In the case of the Beaudry Group of Companies, the existing turn around effort is impossible to continue as it exists today within the limits established by Beaudry's current legal situation, the RV Market and our current budget constraints.
Therefore, Beaudry RV Company has made the decision to temporarily suspend operations at both the Tucson and Chandler retail stores to continue the ongoing turnaround project presently underway. The Body Shop and RV Resort will remain open during this restructuring period. Service in both locations will complete current work, in order to satisfy loyal Beaudry RV customers.
Reconditioning at the previous Main Street Location is nearly complete and the intent is to reopen that store by October 30, 2010. Beaudry's Tucson store is expected to reopen before the end of 2010. The Body Shop and RV Resort will remain open and a small group of employees will be retained on a contract basis to work with the new ownership during the restructuring to prepare for the next generation of Beaudry RV.
This is a difficult time for all in the Beaudry family of employees. However, Beaudry RV intends to re-emerge, fit, financially sound and ready to retake a position as a leader in the RV Industry. There are no guarantees that the effort will succeed, however news will be forthcoming regarding future progress and return to operations.
For more information on Beaudry RV Company or current trends in the industry contact:
Scott Beaudry
Company: Beaudry RV Company
http://www.BeaudryRv.com
Phone: 520-239-5054
# # #