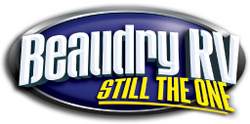 Beaudry RV Company helps people sell their RVs or motorhome every day. Selling is a science. It's about understanding your buyer and making sure the vehicle you are selling them fits their needs
Phoenix, AZ (Vocus) June 17, 2010
As summer rolls around, many RV owners consider upgrading their current RVs for extended travel. Yet many owners aren't sure of the best way to sell their used RV. There are several elements involved in successfully selling an RV, motorhome, travel trailer or toy hauler. Beaudry RV Company has compiled their top five tips for selling a motorhome:
1. Clean the vehicle. In order to get the best price for your RV or motorhome, you will want to have it detailed, inside and out. If there are small repairs that have been neglected, now is the time to have them fixed. If a dog has chewed the gearshift, then have it replaced. Be sure all headlights and turn signals are working. Don't give a potential buyer any reason to be able to talk the price down.
a. Remove any personal items, such as family pictures or grandmother's quilted blanket. One key to making a recreational vehicle more saleable is to allow a potential purchaser to see themselves and their future life in the RV. Make the interior as neutral as possible.
2. Figure out a fair price, so the buyer makes a profit, but not something so high that no one is interested. There are several services that give wholesale prices and low and average retail prices, such as nadaguides.com. The condition of the RV will be a huge factor in how to price the motorhome for sale. By offering a vehicle at a lower than average price, the seller will be sure to have a lot of quick interest. Offering the vehicle at too high a price will result in months or possibly years before the vehicle sells. All that time, the vehicle will depreciate and payments will need to be made. Go to a couple of local dealerships and get quotes for selling and trading in the RV or Motorhome
3. Make the RV or motorhome visible to the community that would be interested in purchasing it. This can be as simple as parking the vehicle in a busy traffic area with a 'For Sale' sign. It could also mean posting the RV on-line for a wider, national market to view the specs.
4. Consult a consignment dealer. Whether the seller is looking to trade in their vehicle for a new one or simply needs help selling, consignment dealers have an advertising budget to get sellers good exposure. Consignment dealers also field calls and arrange test drives. Their job is to take the headache out of selling a vehicle.
5. Make the sale emotional. While buyers will be interested in how the RV drives and what mechanical services it has needed, talking about memorable experiences in the RV, lets a potential buyer see how much they have to look forward to.
"Beaudry RV Company helps people sell their RVs or motorhome every day. Selling is a science. It's about understanding your buyer and making sure the vehicle you are selling them fits their needs," says Scott Beaudry of Beaudry RV Company.
Beaudry RV Company has been a leader in the RV Industry for over 40 years. Their customer service, parts department and summer events set them apart from other RV companies.
For more information on Class A Motorhomes, Class B Motorhomes and Class C RVs and Beaudry RV Company or current trends in the industry contact:
Scott Beaudry
Company: Beaudry RV Company
http://www.BeaudryRv.com
Phone: 520-239-5054
###