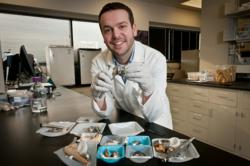 Joining the registry will help ensure that we can continue to provide Beaumont patients with the highest quality care possible.
Royal Oak, Mich. (PRWEB) January 17, 2013
Most of the nearly 1 million hip and knee joint replacement surgeries done nationally each year are successful. They offer patients years of trouble-free use and a return to regular activities of daily living. However, the most recent statistics show about 7.5 percent of patients will experience problems following joint replacement surgery requiring replacement of the artificial joint before the natural end of its life expectancy.
In an effort to continually improve surgical outcomes, Beaumont Health System has taken the added step of joining the American Joint Replacement Registry. The AJRR is an independent, not-for-profit database designed to store comprehensive data about joint replacement procedures that can be shared nationally.
"Joining the registry will help ensure that we can continue to provide Beaumont patients with the highest quality care possible," says Kevin Baker, Ph.D., manager, Orthopaedic Research Laboratories at Beaumont, Royal Oak. "By participating with other hospitals in sharing information about artificial joint performance and physician and patient experiences, we can help joint replacement procedures become safer and more cost effective, while optimizing our own patient experience."
The AJRR serves as a clearinghouse for information about joint replacements performed at Beaumont and more than 100 other member medical centers throughout the country. The AJRR carefully monitors an artificial joint throughout a recipient's lifetime through a database containing information about the patient, the surgeon who performed the procedure and the medical center where the procedure took place.
The data helps doctors identify performance trends in replacement joints, steering them towards the most reliable products. The data also helps joint manufacturers continually improve future generations of implants. This reduces health care costs associated with revision procedures and follow-up care.
"Registries for joint replacement procedures and other medical procedures and conditions have proven to be effective tools in improving patient outcomes and reducing complications that can occur both during and following surgical procedures," said William J. Maloney, M.D., chairman of the AJRR Board of Directors. "In fact, in countries where registries have been created and used, revision rates have decreased significantly."
About the American Joint Replacement Registry
The American Joint Replacement Registry was founded in 2009 by the American Academy of Orthopaedic Surgeons and other orthopaedic industry leaders and stakeholders. It began collecting data in 2011. The AJRR's goal is to optimize patient outcomes through collection of data on all primary and revision total joint replacement procedures in the U.S. The mission of the registry is to enhance patient safety, improve quality of care and reduce the cost of care. For more information about the registry and its objectives, visit ajrr.net.
About Beaumont Orthopedics
Beaumont Health System provides a full range of specialized care in the diagnosis, treatment and rehabilitation of all orthopedic injuries and conditions. Beaumont's department of Orthopaedic Surgery offers leading-edge treatments and technology including minimally invasive surgery, implants and trauma surgery. Beaumont is Michigan's most experienced orthopedic hospital specializing in surgeries of the back, neck, foot, ankle, hand and upper extremities; hip and knee replacement; scoliosis treatment; tumor surgery; pediatric orthopedics; and sports medicine. Beaumont Hospital, Royal Oak is Michigan's top-ranked hospital for orthopedic care for 2012-13 by U.S. News & World Report.