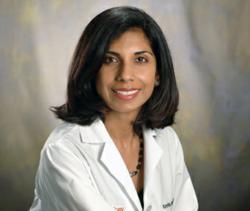 Royal Oak, Mich. (PRWEB) May 15, 2013
Kavitha Chinnaiyan, M.D., director of Advanced Cardiac Imaging Education at Beaumont Hospital, Royal Oak, has received the Frank J. McDevitt, D.O., Award for Excellence in Health Policy Research for Physicians.
The award is presented annually by the Blue Cross Blue Shield Foundation to a Michigan-based researcher or doctor who has published research that contributes to improving health care in Michigan. It comes with a $10,000 research grant.
Dr. Chinnaiyan was recognized for her research published in the September 25, 2012 Journal of the American College of Cardiology on improvement of appropriate use of coronary CT scans across the state of Michigan.
This research, involving 47 hospitals and outpatient centers in Michigan, was sponsored and funded by Blue Cross/Blue Shield/Blue Care Network of Michigan as part of a statewide quality improvement initiative called the Advanced Cardiovascular Imaging Consortium. Dr. Chinnaiyan serves as program director for ACIC and led the research which found that appropriate use of coronary CT scans can be improved with education of referring physicians within a collaborative framework. With this approach, there was a 60 percent decline in inappropriate use of coronary CT scans across the state.
The ACIC is one of 18 Collaborative Quality Initiatives funded and structured by Blue Cross Blue Shield of Michigan. These initiatives join physicians, hospitals and the Michigan Blues in efforts to improve quality and safety in medical and surgical care.
The McDevitt award is presented and named in honor of Frank J. McDevitt, D.O., who served on the BCBSM Foundation board of directors for 20 years. A Michigan native, he devoted his career to caring for patients and improving the quality of health care. Four McDevitt awards are presented annually for research in health policy, health services or clinical care.
About Beaumont Heart Care
Beaumont is Michigan's, and one of the nation's, most experienced providers of heart care, ranking on U.S. News & World Report's 2012-13 "America's Best Hospitals" list for cardiology and heart surgery. The Beaumont Heart Center is a comprehensive, state-of-the-art facility that's dedicated to the prevention, diagnosis and treatment of heart problems. Beaumont's Ernst Cardiovascular Center includes six specialty clinics offering advanced and minimally invasive treatments for heart valve disease, atrial fibrillation, congestive heart failure, aortic aneurysm and dissection, plus preventive screening for adults and high school students. Beaumont's Ministrelli Women's Heart Center is the first in Michigan devoted exclusively to the prevention, diagnosis, and research of heart disease in women
About the BCBSM Foundation
The BCBSM Foundation is dedicated to improving individual and community health through the support of research and innovative health programs designed to provide high-quality, appropriate and cost effective access to health care for all the residents of Michigan. The BCBSM Foundation allocates approximately $2 - $3 million in grants, per year, to Michigan based researchers and non-profit community organizations to:
•Enhance the quality and appropriate use of health care,
•Improve access to appropriate services especially for the under-served and uninsured,
•Control health care costs,
•Support a socially responsible public health agenda.
The BCBSM Foundation is a non-profit 501(c)(3) public charity and supporting organization to Blue Care Network and an affiliate of Blue Cross Blue Shield of Michigan.
# # #