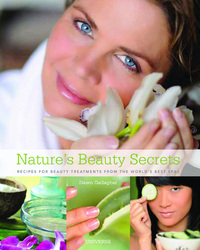 "Dawn Gallagher provides fun, easy and effective beauty treatments during her travels around the world. She demonstrates the resourcefulness of other cultures and preserves the ancient and natural beauty secrets." – Kathy Ireland
New York, NY (PRWEB) March 9, 2011
Rizzoli Publishing announced today the release of beauty and lifestyle expert Dawn Gallagher's second book, Nature's Beauty Secrets.
You long to get away from it all and travel to exotic places but your bank account and work obligations tell you otherwise. If you can't do it in person, the next best thing may be to sample these spa treatments from "Nature's Beauty Secrets" at home! Imagine indulging yourself with a Chocolate Almond Scrub, followed by a Banana Sugar Body Glaze and a refreshing Facial Mask with Tropical Papaya.
Dawn's treatments cure puffy eyes, damaged hair, oily skin, blemishes, aging skin, cracked hands, overworked feet, bad hair, and even sun-damaged skin. She reduces cellulite with seaweed treatments and creates a mini-facelift without going under the knife. Her secrets promise to leave you feeling refreshed, revitalized, and like a brand new person.
Drawing from her extensive travels, healthy lifestyle expert and former supermodel Dawn Gallagher presents a natural, multicultural approach to beauty care. She has collected treatments from spas all over the world and translated them into simple recipes one can do at home in fifteen minutes or less. Find a quiet, clean room (cleanliness promotes peace), turn off the phone, put on some relaxing music, light a few candles and get ready to pamper your well-deserving self.
"Finally, there's a book that solves life's daily beauty challenges without draining the bank account," explained Dawn, Nature's Beauty Secrets delivers useful tips for today's busy women. When you feel great about yourself, you have the self-confidence to take on what life throws you."
Nature's Beauty Secrets is a collection of ancient and modern beauty secrets, healing practices for mind and body, and lifestyle tips for health and vitality from exotic locations in Arabia, the Caribbean, the Far East, India, South Africa, and the Indian Ocean islands.
###