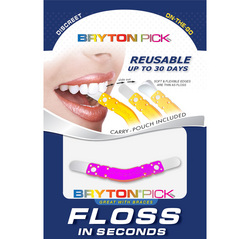 the soft and flexible cleaning edges are as thin as standard dental floss.
Palm Beach Gardens, FL (PRWEB) August 19, 2008
In today's image-conscious world, consumers spends thousands of dollars on braces in search of the perfect smile. Though braces are an effective way of achieving straight and beautiful teeth, they often result in improper oral hygiene; because statistics say that people with braces floss less often than they should.
The reality is that flossing with braces is a bother, and even with hundreds of products on the shelves claiming to make flossing easier, none seem to be the perfect solution. Most products available are a hassle, and they actually make flossing more time-consuming and inconvenient than it already is. Toothguard Dental Instruments has developed a solution that makes flossing quick and simple - even for people with braces.
The product is called 'BrytonPick - FLOSS in Seconds' and it is the only string-free flossing alternative of its kind. By using hygienic, round stainless-steel edges that are designed to slide between teeth to dislodge food and plaque, the BrytonPick makes flossing a breeze. Effortless to use, "the soft and flexible cleaning edges are as thin as standard dental floss." The BrytonPick is ideal for those with braces since, unlike dental floss which has to be strung between the wires of the braces, BrytonPick slides between teeth from behind braces - so the wires are no longer a factor. Even better, BrytonPick is reusable for up to 30 days, making it not only convenient, but also incredibly affordable.
The technology behind BrytonPick was developed by dentists and has finally been brought to the general public by Toothguard Dental Instruments. Tom Logar, President of Toothguard Dental Instruments, says: The BrytonPick offers a means for better oral hygiene by providing fast, discreet, one-hand, hassle-free flossing and total portability for on-the-go applications. Stored in its carry-case the size of a credit card, it can easily fit into the user's wallet to be used anywhere or anytime.
With the release of BrytonPick, the future of oral hygiene has become much more exciting. Time-consuming and frustrating flossing products, especially for those with braces, are a thing of the past. The design behind BrytonPick points to a future where proper oral care is easier and more fashionable than it has ever been in the past. Now it seems the perfect smile really is within our reach.
BrytonPick, the dental space cleaner, is now available for purchase at Meijer, drugstore.com, Amazon.com, BrytonPick.com, Dentist.net, Pearson Dental Supplies and other retailers; and will soon be available nationwide trough CVS and other stores.
# # #