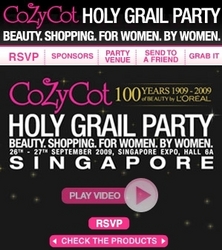 The Holy Grail Party is a wonderful event for all fashion-forward women.
Singapore (PRWEB) August 19, 2009 -
CozyCot, Singapore's leading online beauty and fashion community for women, announces the CozyCot Holy Grail Party will take place at Singapore Expo on September 26 and 27. The free two-day event will feature the latest in beauty, makeup, skincare and fashion from leading brands such as Kérastase, L'Oréal Paris, shu uemura, Vichy and many more.
Women interested in attending may register through CozyCot on Facebook, Twitter, MySpace and other social media sites. CozyCot will be giving away 50 mystery bags to the top 50 women who refer the greatest number of friends to the event.
"The CozyCot Holy Grail Party is the leading beauty and fashion event in Singapore. With participation from the world's leader in cosmetics, L'Oréal, and other top beauty, makeup and skincare brands, the Holy Grail will provide all women who attend the opportunity to get the latest updates, learn the latest trends and catch wind of the latest products in these fields," says Nicole Yee, founder of CozyCot. "The Holy Grail Party is a wonderful event for all fashion-forward women."
CozyCot's Holy Grail Party is fronted by four elite brands: Kérastase, the ultimate luxury in professional hair care and treatment ; L'Oréal Paris, one of the world's leading complete beauty care brands; shu uemura, leaders in the art of make-up; and Vichy, foremost advocators of healthy skin.
The event's other sponsors include many of the world's leading fashion, beauty and skincare brands, as well as other leading companies, including Acer, Babelicious, Bioxil, Burberry Fragrance, Clinelle, Cosmedicine, Dermalogica, Derma-Rx Scientific Skincare Systems, Esprique Precious, Ettusais, FaceBistro, Henry Tianus, Institute of Certified Wedding Planners, Joico, LavenaShoes.com, Majolica Majorca, Marc Jacobs Fragrance, My Beauty Diary, NeoStrata, no!no!, NuBra, o2skin, Palmer's, The Pink Room International Professional Nail Academy, Phyto Hair Spa by ReVAMP, Rimmel London, Salvatore Ferragamo Parfums, Shiseido, Skin Inc., Skinvitals, Stage Cosmetics, TrichoKare, Vera Wang The Fragrance and Za.
"L'Oréal is excited to be part of the CozyCot Holy Grail Party. It provides an excellent touchpoint between our brands and the sophisticated women who are taking charge of their shopping experience by sharing tips and advice on such forums," says Christopher Neo, Managing Director of L'Oréal Singapore. "We look forward to bringing 100 years of expertise in beauty and innovations to Cotters at the Holy Grail Party."
Women interested in attending the CozyCot Holy Grail Party can register for the event by joining Cozycot through Facebook, Twitter, MySpace, Yahoo, Google or AOL. People can also help spread the word of the event by posting an event widget to any number of social media sites, including Facebook, MySpace and Blogger. This widget is available for download at http://holygrail.cozycot.com/.
For more information about the CozyCot Holy Grail Party visit http://holygrail.cozycot.com/.
About CozyCot.com
CozyCot is women's best loved* online beauty, fashion, lifestyle, forums, reviews and shopping, catering to women and their insatiable needs and features over 14,000 forum threads, and more than 1.5 million posts to-date. CozyCot is dedicated to connecting women through a social shopping community that cultivates women to learn and share about latest products and services, buy smart with the best digital community advice and rave about highly sought after trends and must-haves in a woman's world. CozyCot offers an authentic forum infused with compelling content from experts, members and friends on beauty, fashion, lifestyle, health, parenting, food and entertainment.
*Hitwise Singapore Online Performance Award 2006, 2007 & 2008
# # #