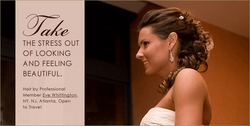 Because every woman deserves the celebrity treatment. Go. And be gorgeous.
New York, NY (PRWEB) October 13, 2010
Go Pretty today announces its new website, GoPretty.com, which will allow women to easily find beauty and style experts that meet both their needs and budget.
Founded by Tracy Saunders, a former manager of celebrity stylists in Manhattan, Go Pretty aims to reach a wide range of clients in various locations with diverse needs.
Saunders once managed the stylists herself, but now GoPretty.com allows users to instantly connect with beauty industry pros across the nation, including those once only accessible to celebrities and their agents.
From Iman's makeup artist to the hairstylist for Celebrity Apprentice, Go Pretty brings the celebrity treatment to real women everywhere.
"Go Pretty is a much-needed resource for women all around the country," said Saunders. "Go Pretty provides insider access to experts, no matter where the clients live, free of charge."
The business concept evolved from Ms. Saunders' own personal search for stylists in Manhattan. Even with an extensive background in recruiting, she found the search cumbersome and time-consuming. Recognizing the market gap between beauty professionals looking for clients, and clients in need of their services, Go Pretty was created as a one-stop, online resource which connects clients with beauty experts without having to dig on the Internet, scour through countless directories or review sites.
GoPretty.com is a place where users can ask questions, search for beauty professionals in a specific area, schedule appointments and get personalized tips and tricks directly from sought-after industry experts. With Go Pretty, women can make connections with beauty professionals in one central, easy to remember web-based location.
"Whether the client's a new mom or executive, is looking for service at her home, hotel or salon, Go Pretty is the place to find the beauty professional that's perfect for her," Saunders said. "Because we believe that every woman deserves the celebrity treatment and has the right to feel gorgeous, effortlessly."
For more information on the variety of services offered by Go Pretty, visit http://www.GoPretty.com. To send a press query to Go Pretty's panel of beauty experts, e-mail press(at)gopretty(dot)com.
Please direct inquiries to:
Press(at)gopretty(dot)com
(866) 960-8652
###