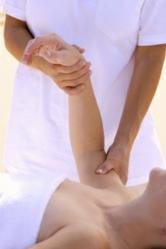 Visitors to the site can currently learn about Swedish Massage, Deep Tissue Massage, and Trigger Point Therapy Massage.
Nottingham (PRWEB UK) 30 April 2013
Over the centuries massage has been enjoyed by all manner of people in all manner of places. In recent decades it's been steadily boosting in popularity, though the techniques and methods being employed by qualified professionals today date back to the beginning of recorded history. Ancient Egypt saw oil massage used as a respected beauty treatment, and physicians over 4,000 years ago were using massage to treat strains upon the feet and hands.
While massage is still attaining increasingly mainstream popularity in the fields of medicine, relaxation therapy, and beauty treatment. Considering this, Beauty4Less.co.uk, a Nottingham based importer and supplier of beauty and spa treatment equipment, are releasing a new information series on the types of massage consumers can expect to experience, and professionals are likely to employ.
The series, entitled 'What is…?', has already covered three of the most popular massage techniques, though the collection will assuredly be expanded on in the future. Visitors to the site can currently learn about Swedish Massage, Deep Tissue Massage, and Trigger Point Therapy Massage.
The initial post, discussing the nature and benefits of Swedish Massage, outlines the techniques consumers can expect to see, including rhythmic tapping, shaking, along with kneading and gliding in the direction of the heart all whilst clients lie on beauty couches for comfort. The widespread popularity of this method is also covered, along with the effect it can have on stress and hormone levels.
Follow up posts discuss the qualities of Trigger Point and Deep Tissue therapy, distinguishing the place each technique occupies within medical science, and the importance of possessing proper medical and professional expertise when attempting to apply the methods in practice. Visitors to the site are versed on common misconceptions over the techniques which could lead to them being performed unnecessarily or by untrained individuals, while still stressing their value for injury recovery and pain relief.
Beauty4Less are an emerging specialist in the field of beauty and spa treatments, supplying professionals and consumers across the nation with high quality massage therapy equipment at competitive prices. By maintaining up to date resources on their site, they hope to keep consumers informed while bolstering their own expert reputation.