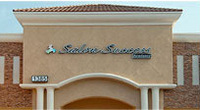 At Salon Success Academies we hope to give more to the students than just a pair of shears.
Upland, CA (PRWEB) March 1, 2008
Southern California area beauty school, Salon Success Academies (SSA), recently added a new program, developed by Pivot Point International (PPI), geared towards developing the key life skills, such as organization, time management, and communication, of their cosmetology students. The focus of the program, not offered by other local cosmetology schools, is to help students recognize the importance of integrity and a strong work ethic in building their client base, an integral part of a successful cosmetology career.
About the new cosmetology course, Susan Turner, Director of Education of Salon Success Academies, said enthusiastically, "At Salon Success Academies we hope to give more to the students than just a pair of shears."
About the Program:
The program, launched the last week of January, is taught by master barber and motivator George Miller and created by Pivot Point International, a leading provider of educational products, services and curriculum to member Cosmetology schools.
New SSA cosmetology students are required to take the three-day course at the Upland campus, which begins with lunch followed by 12 hours of instruction over the next three days. Miller, dubbed "Coach Miller," follows up with each student at the students' campus location. Miller observes not only the technical aspects of each student's hair cutting ability and individual design, but how they interact with the client, manage their appointment book, and develop an ongoing correspondence with clientele.
As a Pivot Point International member, SSA is proud to be associated with the PPI life skills program, coincidentally called 'Salon Success.' The program gives students the knowledge and self-confidence that "It's not just about selling a retail product, but about selling themselves as an individual and how they affect their client's view of health and beauty," said Turner.
About George J. Miller:
George Miller has been in the beauty industry over forty years. He has owned salons, developed products and curriculum, and worked with high-profile clientele. Currently, he is involved in a variety of projects including: Vice President of Membership for B.E.S.T., an educational program for beauty college students, advisor to multiple beauty colleges, like Salon Success Academies, and an advisor to the State Board of Barbering and Cosmetology. Miller is also an independent consultant and inspirational speaker to the beauty industry. He is the author of 'Seeds of Inspiration' and contributing editor and western regional representative for Hair's How Publications.
About Salon Success Academies (SSA):
Salon Success Academies have five campuses located in California's Inland Empires: Redlands, Fontana, Upland, San Bernardino, and Corona. SSA's philosophy is to treat each student as a part of the family, providing them with every opportunity to complete their studies at the lowest cost possible. SSA combines hands-on practical application with cosmetology, skin care, or nail technology concepts. The school partners with the beauty industry to enable students to graduate with technical excellence in their profession as well as strong customer service skills.
###