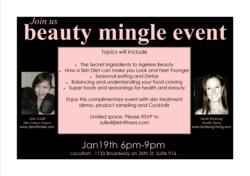 At this event we will teach everyone how food, products and treatments can help delay the signs of aging.
New York, NY (PRWEB) January 18, 2012
On January 19th, Julie Lindh, world renowned aesthetician and owner of Skin Fitness in NYC will open her office for a one-night only Beauty Mingle Event. The open house is intended to educate clients and attendees on a range of beauty, diet and nutrition subjects that will aid in a healthful and sustainable lifestyle.
Co-hosting the event with Lindh is Health Stylist and certified Health Coach,Sarah Birdsong whose philosophy focuses on eating for disease prevention, vitality and well-being. Together, Lindh and Birdsong will speak to a variety of topics, including: "The Secret Ingredients to Ageless Beauty", "How a Skin Diet can Make you Look and Feel Younger", "Seasonal Eating and Detox", "Balancing and Understanding Food Cravings", and "Super Foods for Health and Beauty". Each interactive mini-session will be packed will value-added tips and treatment tutorials, as well as live demonstrations.
Hoping to inspire beauty-goers for the year ahead, Lindh hopes that attendees will walk away with the motivation to make positive lifestyle changes. "This event is about promoting an understanding of the mindful choices that contribute to a balance in key aspects that contribute to a happy and healthy life."
Beauty Mingle will take place on January 19th from 6:00 to 9:00 p.m. at Skin Fitness Studio, 1133 Broadway (corner of 26th St.), Suite 916, New York, NY. For more information on the event, or to RSVP, contact Julie Lindh at Julie@jlskinfitness.com.
About Julie Lindh
World-renowned aesthetician Julie Lindh is a renowned skin care expert. With her uniquely innovative four-phase approach towards skin care, Julie helps patients achieve and maintain clear, glowing and radiant skin, making it easy to understand why some devotees call her "the healer". Lindh's skincare philosophy is based on a belief that treatment is unique to each skin profile. The services offered in her NYC and Sweden based offices are customized, and are provided only after Lindh completes a full skin analysis of each patient. She also travels the world to cater to clientele, including A-list celebrities, socialites and high-end day spas.