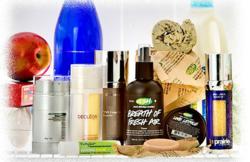 A product that's separating, has changed in color or smells differently are signs they're ready for the trash
New York, New York (PRWEB) November 20, 2012
It's so hard to say goodbye! Especially to that expensive face cream in the back of the medicine cabinet. BeautyStat.com -- the leading online beauty community for skincare reviews and makeup reviews -- has been featured in the New York Times article that ran both online and in print on October 24th/25th entitled, 'Even Beauty Items Face the Aging Process.' BeautyStat's very own founder and cosmetic chemist, Ron Robinson, talked about the skincare industry and how beneficial ingredients such as retinol, glycolic and vitamin C lose their potency due to simple routine efforts such as storage, handling and packaging. The absence of so many preservatives in skincare items nowadays has brought on the matter of how to extend a product's shelf life.
Even the skincare industry has caught on to the issue by separating ingredients in the way of packaging. By having a product's design carry the ingredients in two different compartments, the product is left being both bacteria-free and at its utmost effectiveness, but, Robinson feels this too is all a marketing ploy. "It's more of a visual cue. The consumer take-away is, 'two products in one, it must be delivering two benefits.' "
Robinson went on to explain that regardless of expiration dates, extending the life of these products is as easy as storing them in a cool place rather than in your bathroom, which tends to be hot, humid and wet. Using an applicator or cotton swab instead of your finger will decrease bacteria. And adding water only invites germs. Robinson closed the article with this last helpful reminder: "A product that's separating, has changed in color or smells differently are signs they're ready for the trash." Learn more about how to extend the life of your skincare products by reading the rest of the article.
BeautyStat.com (a NYC tech startup) is an online beauty community - consisting of beauty product reviews - and social marketing agency for the beauty industry. It has been featured in Womens Wear Daily, New York Times, Forbes Magazine, NBC and CBS News. The strength of BeautyStat.com is its captive, engaged and influential 100,000+ community, 190+ blogger network and 40 million social network reach. BeautyStat.com works with beauty brands, retailers and PR agencies to connect them to the BeautyStat community for online PR events, advertising and rich consumer insights.
BeautyStat.com was founded by beauty entrepreneur Ron Robinson. Ron is a veteran cosmetic chemist who has worked for such leading beauty companies as The Estée Lauder Companies, L'Oreal, Avon Products and Revlon Products. Ron is currently a resident beauty expert for Allure magazine.