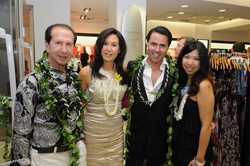 Opening the Royal Hawaiian Center flagship location is in line with our strategic plan to build high impact boutiques in key retail locations like Waikiki
Honolulu (Vocus) June 7, 2008
bebe stores, inc. (Nasdaq: BEBE) today announced the opening of its newest flagship location in Waikiki's premier shopping destination -- Royal Hawaiian Center. Founder Manny Mashouf and CEO Greg Scott were on hand for the festivities to show how much "bebe Loves Hawaii". Five percent of the proceeds from the opening weekend sales at both of bebe's Hawaii stores will go to support the YWCA of Oahu's Dress for Success Honolulu program.
Known for its modern, sophisticated and sensual fashions, the 'bebe look' is a natural addition to the newly revitalized Center, which houses some of the finest luxury and lifestyle retailers. The new store takes its rightful place amongst the largest collection of flagship locations in Hawaii. It will also offer shoppers exclusive access to 15 new bold, colorful designs that will be sold only at the Royal Hawaiian Center location.
"Opening the Royal Hawaiian Center flagship location is in line with our strategic plan to build high impact boutiques in key retail locations like Waikiki," said Greg Scott, CEO of bebe stores, inc. "bebe loves Hawaii and we are looking forward to creating the kind of environment in our Waikiki boutique that further builds awareness and customer loyalty to the bebe brand and the sophisticated lifestyle it represents. In addition, we are happy to support a worthwhile community program like Dress for Success as part of opening celebration."
To add to the opening weekend festivities, bebe is partnering with Pure Hapa, a luxurious Hawaiian-inspired skincare product line developed by Nadyne Keala Orona using exotic botanicals combined from treasured family traditions passed down through generations. Its exclusive Hapalicious Body Care Travel kit set will be sold at the new Royal Hawaiian Center and Ala Moana Center bebe boutiques for a limited time from June 5-8th. Pure Hapa is also proudly donating five percent of sales to support the YWCA of Oahu's Dress For Success.
bebe's new flagship boutique is a two-story townhouse style location with 6,000 square feet located at Royal Hawaiian Center along Kalakaua Avenue. Designed by BruceAndTom (BAT) Design Partners, it features a 25 foot high, two level glass façade, along with louvered canopies. Specially-designed "bebe Loves Hawaii" surfboards will be a featured accent, with speckled paint that hints at the signature bebe Swarovski crystal logo. Chrome accents highlight the warm champagne and chocolate colors used throughout. A polished limestone floor and glass enclosures allow for a unique play of light within the store, which creates a rich environment for shoppers to enjoy. The first floor will house dresses, Collection sportswear, and accessories including a range of shoes, bags, belts and jewelry. The second floor will feature logo apparel, casual wear and jeans.
About bebe
bebe stores, inc. designs, develops and produces a distinctive line of contemporary women's apparel and accessories, which it markets under the bebe, BEBE SPORT and bebe O brand names. It currently operates 293 stores, of which 208 are bebe stores, 22 are bebe outlet stores, 62 are BEBE SPORT stores (this includes bebe/BEBE SPORT 2-in-1 stores) and 1 is a bebe accessories store. These stores are located in the United States, the U.S. Virgin Islands, Puerto Rico and Canada. In addition, there is an online store at http://www.bebe.com.
About YWCA of Oahu's Dress for Success
YWCA of Oahu's Dress for Success® Honolulu provides career attire to low-income women to help them present a professional appearance at job interviews. Clients are 'suited' by volunteer 'Personal Shoppers,' at the YWCA's Dress for Success® Honolulu in Laniakea Center.
###