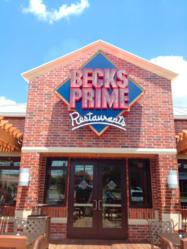 Dallas, TX (PRWEB) July 31, 2012
Houston, TX – (July 31, 2012) – Becks Prime, the Houston-based restaurant famous for its fresh, made-to-order food and award-winning burgers has opened a new restaurant at 5931 Forest Lane.
One of the founders, Mike Knapp, spent 12 years with the Steak and Ale Management team. He felt there was a void in restaurants serving top quality, freshly prepared "fast food." In 1984 a partnership was formed between Win Campbell, Mike Knapp and John Storms to develop that very idea.
"I grew up working in the restaurant business in Dallas, so everything is coming full circle for me," said CEO Win Campbell. "This city played an important role in my past and will now be a wonderful part of this restaurant's future."
Becks Prime burgers are made from 100% Certified Angus Chuck that is ground each morning, the fries are hand-cut from whole Idaho potatoes, and the salad dressings are made fresh, in-house, every day. The burgers are always cooked to order, grilled over mesquite wood coals and are never frozen. The yellow buns are made from real eggs; which give them a fluffy light quality.
Becks Prime has consistently been recognized as the best burger in Houston for nearly two decades. They were named one of the "Top Ten Burgers" in Texas by Texas Monthly. Becks Prime was also named "Best Hamburger" by Chron.com, Houston Business Journal, Zagat Survey and the Houston Press who also recognized them as having the best milkshake. USA Today said that Becks Prime has the "Best burgers, bar none...Real fries, and heavenly, thick milkshakes."
Becks Prime's famous milkshakes are made with at least 10% butterfat and fresh strawberries, fresh-brewed Jamoca and Hershey's Chocolate Syrup.
Also offered are many other lunch and dinner options such as Ahi Tuna and grilled chicken salads, certified Angus steak dinners, 1⁄4 lb. custom-made Boar's Head hot dogs and vegetarian options.
"It's rare to be able to get this quality of food so quickly," said Molly Voorhees, President of Becks Prime. "We have a distinctive concept that we're excited to bring to Dallas."
The new Becks Prime address is 5931 Forest Lane. It is now open.
"It took us 28 years to get to Dallas, but we're glad to be here," said founder Mike Knapp.
About Becks Prime
The first Becks Prime opened on Kirby Drive in Houston with a double drive-thru and an open-air patio. Since then, very little has changed with regard to food preparation and the relentless drive for superior quality food. The founders continue to be involved in the day-to-day running of the company. The cooks on-site grind and patty fresh Angus Chuck daily. Becks Prime doesn't use microwaves or freezers- (the only freezer is for the beer mugs). And everything is cooked-to-order, grilled over mesquite wood coals and prepared quickly, just like it was over twenty-five years ago. Privately owned Becks Prime currently operates twelve locations in and around Houston.
If you would like more information, or wish to schedule an interview, contact Mike Knapp at 713-922-0219. Visit the Becks Prime website at http://www.becksprime.com
###