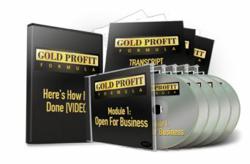 The relationships built between customers and businesses are influential on all levels.
Austin, TX (PRWEB) April 10, 2013
Become a gold dealer by learning the business from head to toe with access to the Gold Profit Formula from Absolute Wealth, said a recent article on the company's website. The program is one of the company's most reliable systems ever created, and it's helped a large amount of people realize their full gold and jewelry dealing potential.
Gold prices have held steady above the $1,500 range for years, said the article, maintaining a great opportunity for those who understand how the buying and reselling business operates. By personally devoting time and effort towards individual customers, with an "I'll come to you" approach, entrepreneurs can start to see some real return on investment. The article said the Gold Profit Formula gets people headed in that direction, and sees them through to the end result of a professional precious metal dealer.
The article pointed out that most people think the only way to make money with gold or other precious metals is to sell it to a pawn shop, or one of those "Cash for Gold" retailers. Since the price of gold is so high, these types of places are seeing an influx of scrap pieces or unwanted possessions coming in so people can make some extra cash.
What smart gold and jewelry dealers are learning from the Gold Profit Formula is that bringing that opportunity to people directly, or setting up shop in a place where they'll easily find it, is a great advantage. The article said that when people know they can trust someone's knowledge and skillset, they'll be far more likely to do business with them. In turn, the dealer is able to make a higher profit by directly refining their gold and jewelry, or reselling it to other eager customers.
The relationships built between customers and businesses are influential on all levels, according to Absolute Wealth. The Gold Profit Formula serves as a gold business startup for those who are motivated to reach that high peak of being their own boss, and generating real income.
The Gold Profit Formula is without a doubt one of the most extensive instructional and theoretical programs Absolute Wealth offers, and the article said its popularity proves the worthiness of its quality content. The insider's tips and best practices make learning about gold dealing easy and enjoyable. The system is like a master's course in precious metals, added the article.
Absolute Wealth is an expert team of real investors and advisors devoted to identifying winning strategies for exceptional returns. Members subscribe to the company's Independent Wealth Alliance for professional investment analysis on the latest market trends and progressions. For more information and subscription instructions, visit AbsoluteWealth.com.
The article said interested people can find out more about accessing the Gold Profit Formula and quickly learn how to become a gold dealer.