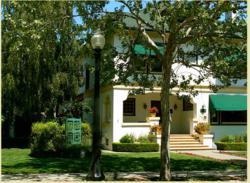 We handcraft our baked goods and sweets because we believe that freshness equates with quality
Napa, CA (PRWEB) December 10, 2011
Jim Gunther, the owner of Napa's bed and breakfast, The Inn on First, releases a self-published cooklet called "Sweet Beginnings". The cooklet, too small to be a cookbook but larger than a pamphlet, contains 12 of the Inn's most requested breakfast pastry recipes as well as granola, chocolate chunk cookies and chocolate truffles. Gluten-free options are available for most recipes.
"Sweet Beginnings" is on sale at the Inn and through Amazon as a print book and an e-book in formats compatible with Kindles, Nooks and iPads.
"We handcraft our baked goods and sweets because we believe that freshness equates with quality. Also, the use of ingredients: high quality unsalted European style butter and good quality chocolate (we use Guittard Chocolate Couverture, 38 percent to 72 percent) make the difference between a good chocolate chunk cookie and a great one," says Gunther.
As a graduate of the California Culinary Academy, Chef Gunther offers a whimsical breakfast fare with a professional edge. Providing new gastronomic adventures for his guests each day is part of what makes The Inn on First experience so unique. From that first bite of granola to the last lick of sauce on the plate, guests of The Inn on First will taste the creativity and passion that goes into each meal.
For more information on The Inn on First, call 707-253-1331 or visit http://www.theinnonfirst.com. The Inn on First is located at 1938 First St., Napa, CA 94559.
About The Inn on First
The Inn on First, a Napa lodging inn, offers guests Napa Valley style with a taste of San Francisco hospitality. One of Napa Valley's newest inns, it features inventive, hand-crafted cuisine, excellent service, elegant rooms and amenities, and peaceful gardens. Its luxuriously appointed guest rooms have king or queen beds, fireplaces and whirlpool tubs, perfect for a romantic getaway.
###