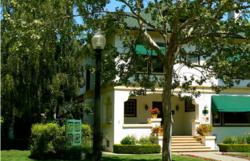 The 2012 CMUS Talk of the Town Award is here to celebrate the Inn on First's high achievement in customer satisfaction
Napa, CA (PRWEB) February 23, 2012
The Inn on First, Napa's Bed and Breakfast has once again won the 2012 CMUS Talk of the Town Award for Excellence in Customer Satisfaction in the hotels and travel category. The lodging inn was given a five-star rating. The awards are presented by the Celebration Media U.S. (CMUS) and Talk of the Town News.
Only the very best businesses have been chosen to receive the 2012 CMUS Talk of the Town Award for Excellence in Customer Satisfaction. The award was created to showcase companies that excel in serving their customers and getting their high marks. Customers of The Inn On First have spoken, scoring some of the highest ratings possible.
CMUS is a co-sponsor of the award and an independent professional research and marketing company that monitors positive and negative reviews, blogs and social networks to determine the highest-rated and top-reviewed businesses in all 50 U.S. states and parts of Canada.
"The 2012 CMUS Talk of the Town Award is here to celebrate the Inn on First's high achievement in customer satisfaction. We believe that a company can only grow by excelling in customer care and providing the best customer experience possible. We are proud to deliver this news," CMUS said.
View the Inn on First's dedicated search page and listing at http://www.talkofthetownnews.com/awards2012/8662531331.
Enjoy a romantic getaway and experience the beautiful rolling hills and vineyards of Napa Valley California. The inn and rooms are the perfect complement to the surrounding landscape and make for a romantic atmosphere for a special someone or with the whole family.
For more information about any of the Inn on First's products or services, call 707-253-1331, view the inn on the web at http://www.theinnonfirst.com or visit 1938 First St. in Napa.
About The Inn on First
The Inn on First is a television-free and smoke-free environment. It is recognized by the Certified Green Lodging Association of California, the California Legislature, the United States Congress and the Napa County Green Business Association.
###