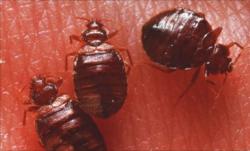 With the solution [Bed Bug Bully]...one could do a truly effective bed bug treatment without having to give up convenience.
Cincinnati, OH (PRWEB) April 09, 2013
Pesticides simplify and speed up bed bug treatment. But according to a report from cincinnati.com, a recent study discovered that the vampire-like pests have developed resistance to the said solutions. In response to the news, My Cleaning Products asserted that it would be better for the public to use the non-pesticide bed bug spray – Bed Bug Bully – instead. It offered samples of it so anyone could attest its safety and effectiveness.
My Cleaning Products related that as said in the report posted on March 29, 2013, bed bugs were particularly becoming resistant to pyrethroid insecticides. It stated that it is the main type of pesticide sprayed on the blood-fed crawlies.
The study that discovered the said immunity of bed bugs was conducted by the University of Kentucky, MCP detailed as based on the same report. It was released in December and published on Scientific Reports, it added. Moreover, it shared that as the study revealed in the report, bed bugs were making their shells harder or changing the way they absorb the insecticides to develop immunity to them.
There were 21 different types of bed bugs based on the city they came from that were tested in the study according to the report, My Cleaning Products said. But the crawlies that showed more resistance over the others, it related, were those from Cincinnati.
Here is an excerpt from the post Bed Bugs Becoming Insecticide-Resistant by My Cleaning Products.
"Some of the good things about the warm months are that you could travel, have fun in the sun and bring home some great garage sale finds. The bad thing though, there is a bigger chance that bed bugs would hitch on you or your luggage for a ride. Worse, based on a recent study, it now would be harder for you to get rid of them easily with the usual bed bug sprays or insecticides.
That recent study basically speaks of the University of Kentucky research about bed bugs now becoming more resistant to common pesticides. It was released last December and was published on Scientific Reports, the Nature Publishing Group's research journal."
My Cleaning Products stated that the recent study mentioned in the report shows that the use of pesticides to kill bed bugs could waste much of a person's time, effort and money. However, it's a different story with non-pesticide bed bug spray Bed Bug Bully, it declared.
With the solution, the company said that one could do a truly effective bed bug treatment without having to give up convenience. As a bed bug spray, Bed Bug Bully could make the process easy to complete just like how a pesticide could. But in the absence of pyrethroid in its list of ingredients, bed bugs couldn't resist its effectiveness, it explained.
Additionally, MCP revealed that Bed Bug Bully was already approved by FIFRA 25(b) as pesticide-exempt. So, users could rest-assured that it is also safe for health, it asserted.
Giving everyone the chance to test the product, the company also announced that it would be giving out samples of the bed bug spray. As it said, anyone could get a Bed Bug Bully Complimentary Sample at MyCleaningProducts.com.