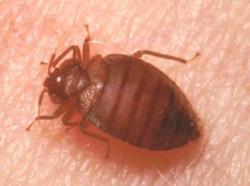 ...one could implement a prompt, easy, effective and safe bed bug treatment with a bed bug spray.
Stockton, CA (PRWEB) April 30, 2013
Despite the decrease of bed bug cases in some places, in Northern California, the vampire-like pests remain a big problem. In a report from patch.com, two separate infestations happened in the region in April alone. In response to it, My Cleaning Products offered samples of its non-pesticide bed bug spray Bed Bug Bully to the residents to help.
It was stated in the report posted on April 28, 2013 that one of the two infestations occurred in a low-income senior housing, My Cleaning Products said. It detailed that it's located in Stockton.
The other and more-recent infestation, based on the report, was in the popular coffee shop Starbucks, MCP shared. It specified that the coffee shop branch in Campbell at 1686 S. Bascom Avenue was the one affected. Particularly, the pests were sighted between the cushions of the sofa chairs of the establishment, it added.
Here's a part of the post More Bed Bugs Plague Northern California by My Cleaning Products.
"Bed bugs could be anywhere. They could be in a five-star hotel, a senior housing or a local apartment building. If you are not careful, they could also be in your place in the following days. And considering how widespread they are today, that could truly happen.
Some reports though said that bed bug infestations already abated. But despite that, to many, those bloodsuckers still remain a big problem. In Northern California, for instance, two bed bug cases pestered the residents just this month alone. And one of those cases happened in a place you would least expect to be infested."
My Cleaning Products said that bed bugs could be anywhere. So, it warned the public to be careful of them. And to help everybody fight the pests off, it added a bed bug guide on its most-recent news post. It also announced that it would be giving out samples of its pesticide-exempt bed bug spray Bed Bug Bully to help the residents of Northern California and the rest of the public.
In its news post, MCP said that to implement a successful bed bug treatment, one must first learn important things about the pests. And so, it discussed bed bugs' appearance, habits and hiding spots in the said post. Additionally, it detailed how one could implement a prompt, easy, effective and safe bed bug treatment with a bed bug spray.
Of all the bed bug solutions though, the company asserted that the public should opt Bed Bug Bully. It stated that it is effective and safe. It also shared that EPA has classified it as pesticide-exempt under FIFRA 25 (b).
To affirm that it is really the bed bug spray everyone should get, MCP announced that anyone could try a sample of it. It instructed that one just need to go to MyCleaningProducts.com to get a Bed Bug Bully Complimentary Sample.