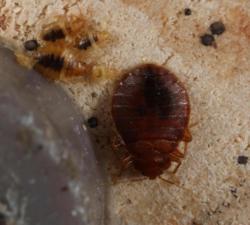 With a spray, a bed bug victim could make the bed bug treatment effective and inexpensive...
Miami, FL (PRWEB) April 29, 2013
Bed bugs continue to make victims out of random citizens. And in an attempt to help the public in protecting themselves against those pests, My Cleaning Products published a new bed bug treatment guide. Along with it, it also announced that it would be giving out its non-pesticide Bed Bug Bully with 20% discount.
According to My Cleaning Products, bed bugs are some of those common things that no one should live up with. They bring in so many problems that they just got to be eliminated, it said.
In its new bed bug treatment guide posted on April 25, 2013, the company enumerated those problems that the blood-fed crawlies could bring in. It listed that they could bring money troubles, health problems and even social embarrassment.
To prevent those things or at least reduce the extent of them, in the same guide, MCP explained the step by step process of a bed bug treatment. Those steps, it put as inspection, eradication, re-inspection and continual eradication.
In the eradication step, which is the actual elimination of bed bugs, My Cleaning Products stated that there are several methods that one could implement. However, if the infestation is not yet severe and the person wants to kill bed bugs by himself or herself and is sure that he or she could handle it, then bed bug elimination with a bed bug spray is the one to implement, it asserted.
With a spray, a bed bug victim could make the bed bug treatment effective and inexpensive, the company stated. However, it cleared that one must use only the right bed bug spray. And out of all the solutions, it declared that Bed Bug Bully is the best option.
As it stated, pest-control companies and hotels have proven that Bed Bug Bully works. Moreover, it shared that it has been approved as pesticide-exempt under FIFRA 25(b). And with its effectiveness and safety, it vouched that it is truly the right product for a do-it-yourself bed bug treatment.
To get Bed Bug Bully at a discount, My Cleaning Products also urged the public to get it this month. As it announced, it would be giving out the product with 20% off this April. It detailed that buyers just need to enter the code "APRIL" at checkout to get it.
But that's not all. To those would want to prove it themselves first that the said bed bug spray indeed works, MCP said that samples of it are available for them. It instructed that anyone wants a Bed Bug Bully Complimentary Sample could get one at MyCLeaningProducts.com.