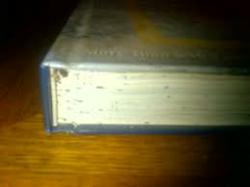 ...because chemicals are a huge danger to health, a bed bug treatment must be chemical-free.
New York, NY (PRWEB) February 14, 2013
Every place is now susceptible to bed bug presence, even libraries. Based on a report from woodtv.com, in fact, in Michigan, there was one public library closed down because of the sightings of the said pests. And to help the staff win over them, in its new published guideline for effective bed bug treatments, My Cleaning Products recommended the use of Bed Bug Bully. Moreover, it offered them complimentary samples of the solution.
As stated in the report, the bugs were sighted in the Washington Square branch of the Kalamazoo Public School Library. Particularly, they were detected in a number of books returned through the branch's drop box.
The bed bugs found were actually dead, added the report. But despite that, the library spokesperson Farrell Howe said they would still have bed bug treatments done in the library.
Here's an excerpt from the report:
"Though a Tuesday morning search didn't reveal any live bugs in the Kalamazoo Public School Library's Washington Square branch, it did reveal some dead bed bugs.
Monday, library spokesperson Farrell Howe confirmed to 24 Hour News 8 that a couple of books returned through the Washington Square branch's drop box contained bed bugs. They were quarantined -- sealed up in plastic bags -- and then destroyed."
According to My Cleaning Products, because chemicals are a huge danger to health, a bed bug treatment must be chemical-free. It stated that it is the right way to kill the pests as it also prevents allergies, breathing difficulties and even poisoning. And to make it more effective, it stated that one must know the do's and dont's of bed bug treatments.
And so, to help the library and anyone else suffering the pests, MCP published a bed bug treatment guide on its website. In it, the company pointed out what a person must and must not do to make the elimination work. Moreover, it specified the use of a non-toxic bed bug spray as the best bed bug treatment and highly recommended the use of Bed Bug Bully.
My Cleaning Products detailed that Bed Bug Bully is actually pesticide-exempt as categorized in FIFRA 25(b). And so, it is safer than any other bed bug spray, it stated.
In addition, the company shared that the product was already proven safe and effective by pest-control companies and bed bug contractors. And as it asserted, that makes it the best bed bug spray to get. It also stated that everyone could actually prove that themselves.
MCP explained that complimentary samples of solution are now available. It urged everyone to grab a sample of it and test the product themselves.
Bed Bug Bully Complimentary Samples are Available at MyCleaningProducts.com, related the post.