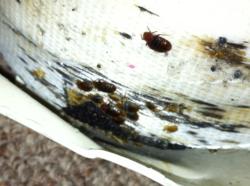 ...Bed Bug Bully is the best help to get rid of bed bugs because it is both effective and safe.
New York, NY (PRWEB) May 30, 2013
It was reported that bed bugs in New York infested Buffalo Psychiatric Center earlier this week. And as suggested in a report from wivb.com, that caused concerns among the patients' family and even led one mother to express her aggravation about it. Wanting to help the authorities and all the other bed bug victims, My Cleaning Products advised the use of its pesticide-exempt bed bug spray Bed Bug Bully.
According to the report posted on May 28, 2013, it was the attempt to cover-up the bed bug problem that drove the mother to anger, My Cleaning Products said. She questioned the center for not relocating the 24 affected residents to a "suitable residence" as in her terms, it added.
MCP related that based on the report, the Olmsted Residence was the specific area in the center infested by bed bugs. Its 24 residents, including the son of the upset mother, were transferred to the Strozzi building while treatment is ongoing, it detailed. However, it recounted that the mother complained the new hospital setting could cause regression to the patients.
Here is a part of the post Mother Displeased of State's Handling of Bed Bugs by My Cleaning Products.
"In our previous post, we shared with you about an infestation of bed bugs in New York. Particularly, it was in a psychiatric center in Buffalo. And here is a follow-up to that story.
Based on a recent report, despite the efforts of the state's Department of Mental Health to solve the infestation in the said facility, the problem persisted. And because that and the relocation that it led to, it was said that the parents of the residents were concerned."
My Cleaning Products relayed that the bed bug problem of the psychiatric center has actually been going on for months. And as it concluded, that is the root cause of the parents' concern.
But though MCP said that bed bugs could be persistent and cause prolong infestation, it emphasized that any bed bug victim should not let that happen. It stated that early detection and elimination with a bed bug spray could prevent that.
Among the many sprays, the company stated that Bed Bug Bully is the best help to get rid of bed bugs because it is both effective and safe. Unlike other bed bug products, it detailed that it is pesticide-exempt and that EPA has already classified it as one under FIFRA 25(b). Moreover, it stated that pest-control companies, hospitals and hotels had been using it for years.
And for anyone who wants to test the product and prove that it's really worth it, MCP also shared that Bed Bug Bully Samples are available at MyCleaningProducts.com.