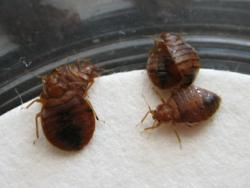 Bed Bug Bully is pesticide-exempt, it guaranteed that it would make the process safe.
Lincoln, NE (PRWEB) April 04, 2013
A new bed bug case was reported in Lincoln, Nebraska. According to a report from klkntv.com, the pests just recently infested a health care facility in the city. In response, My Cleaning Products suggested to the facility's management and the rest of the public the application of Bed Bug Bully. It also offered samples of the said pesticide-exempt bed bug spray to attest that it's right solution to choose.
The report, published on April 02, 2013, stated that the affected facility was particularly the main building of the Tabitha Health Care at 47th and Randolph, My Cleaning Products shared. It detailed that the pests were known to have been brought in by a visitor. Nonetheless, it added they were already contained.
As stated in the report, MCP related that the pests were detected on Sunday. They were found and isolated in one patient's room, it said. Actions were being taken to clear bed bugs and workers, patients and their families were also being informed about it, it relayed.
Below is a part of the post Bed Bugs Found in a Lincoln Care Facility by My Cleaning Products.
"One thing that makes bed bugs infamous is their ability to attack without being noticed. That's no thanks to them being good hitchhikers. And as a report has it, that sneaky hitchhiking ability got them to one Lincoln care facility.
As the report said, particularly, the vampire-like pests have recently reached the Tabitha Health Care's main building. It was located on the 47th and Randolph in Lincoln, Nebraska. The pests were discovered on Sunday in one patient's room and actions are already being taken to solve the problem. The workers, the patients and their families are also being notified about the incident."
In the report, Tabitha Health Care Senior Vice President, Joyce Ebmeier, explained that bed bug infestation got nothing to do with sanitation and that the pests are just real hitchhikers, My Cleaning Products additionally shared. And to that, it agreed.
Further, because of those characteristics, the company concluded that everyone must always be ready to fight the pests. And as it said, one way to do it is to have a Bed Bug Bully prepared.
With the said bed bug spray, the company asserted that the facility and the public could fight promptly and effectively the vampire-like pests. It stated that would avoid wider infestation and bigger spending for the bed bug treatment. Moreover, because Bed Bug Bully is pesticide-exempt, it guaranteed that it would make the process safe.
To prove its claims are true, My Cleaning Products urged everyone to try Bed Bug Bully. As it stated, anyone could get a Bed Bug Bully Complimentary Sample at MyCleaningProducts.com.