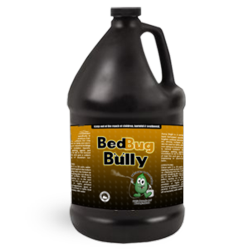 Unlike other bed bug sprays, Bed Bug Bully is effective without being a risk to anyone's health...
New York, NY (PRWEB) April 10, 2013
Bed bugs are known to increase in warm months. And because it will soon be summer, My Cleaning Products warned the public of the expected rise in number of the vampire-like insects. It also recommended to everybody the use of the non-pesticide bed bug spray – Bed Bug Bully – and offered samples of it to affirm the product's worth.
According to My Cleaning Products, bed bugs are small and fast-paced creatures. It said that those are two of the major reasons why they are now so widespread. But because the number of travel and the rate of traffic in hotels, resorts and inns are particularly much higher in summer, it stated that the pests are more likely to be transferred during that time of the year. That increases everyone's vulnerability to being their next victim, it declared.
Having emphasized the likely bed bug increase during the summer, the company then warned the public about it. It said that anyone could pick up the pests anywhere and bring them back home.
To prevent that, MCP said that one must be careful of their choice of hotel or place to stay. Inspection must be done before settling in, it said.
And to help the public do the bed bug inspection correctly, My Cleaning Products published a bed bug guide of when and where to find the pests. Whether at home, in a hotel or anywhere else, it said that the guide is a big help to prevent the further spread of the blood-fed insects.
In the guide, the company enumerated the signs of bed bug presence. It also listed the specific furniture and areas where bed bugs could hide. And just in time for summer, it recently updated it with a list of spots where the pests could possibly conceal themselves. Apart from that, it also added a number of travel tips to avoid contact with the pests.
That's not all though. In the same guide, MCP also advised the public to have a Bed Bug Bully prepared. It said that with it ready, one could eliminate the pests readily. And with the summer coming, the more the public need to have it, it stated.
Unlike other bed bug sprays, Bed Bug Bully is effective without being a risk to anyone's health, the company asserted. FIFRA 25(b) has approved it as pesticide-exempt. Compared with other methods to kill bed bugs, the use of it is also much less expensive as it stated.
To prove that Bed Bug Bully is indeed what were claimed, the company also urged the public to get samples of it. As it detailed, Bed Bug Bully Complimentary Samples are available at MyCleaningProducts.com.