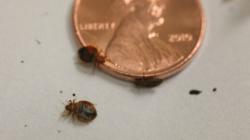 ...the use of Bed Bug Bully is the best as it allows easy, effective and prompt elimination...it is safe for health and the environment.
Rockford, IL (PRWEB) May 29, 2013
These days, bed bugs are becoming even more widespread. One proof of that is the rise of bed bug cases in Rockford just as a report from wifr.com stated. And what's worse, they are now infesting even buses as a report from globalpost.com indicated. Wanting to help the public protect themselves from those pests, My Cleaning Products advised them the use of Bed Bug Bully and even offered samples of it to prove its worth.
Based on the wifr report, posted on May 27, 2013, the vampire-like pests had become so prevalent in Rockford that one pest-control company owner had to hire more employees to help get rid of them, My Cleaning Products related. Every week, it shared that the said owner now gets 14 to 15 calls regarding the pests.
Meanwhile in Edmonton, the report from globalpost, which was published on May 28, 2013, said that the pests raised concern after infesting four buses, MCP stated. However, it relayed that the state's transit fleet maintenance director, John Sirovyak, assured residents there was nothing to worry about. Sirovyak said that they continuously clean the buses and promptly treats them in case of bed bug presence, it detailed.
Here is an excerpt from the post Bed Bug Outbreak in Edmonton Buses and Rockford by My Cleaning Products.
"There are many things that bed bugs can do. They can have you itching just by reading about them, they can have you stressing out and anxious over the possibility of them infesting your house and they can surely have you spending big if ever their infestation happens.
Despite that though, there is one sure thing that those vampire-like insects can never do. That is to disappear completely. In fact, with the way lives are lived today, what is happening is exactly the opposite. They are becoming more widespread."
MCP said that the two reports about the bed bug outbreak in Edmonton and Rockford prove that those pests are becoming even more widespread. And as it stated, that increases the risk of every house being infested. But as it countered, that could be prevented.
Particularly, My Cleaning Products said that bed bug infestation could be prevented with Bed Bug Bully's help. However, before implementing a bed bug treatment with the product, it advised everyone to check bed bug pictures first. It said that it is essential for correct bed bug identification and successful elimination.
Among all the methods to kill bed bugs, the company explained that the use of Bed Bug Bully is the best as it allows easy, effective and prompt elimination. And compared with hiring a bed bug exterminator, it added that it is much less inexpensive.
Moreover, it asserted that it is safe for health and the environment. That's because it is made with organic ingredients and EPA has already recognized it as pesticide-exempt under FIFRA 25(b), it shared. And for that and all its other benefits, it asserted that the use of it is truly the best way to eliminate bed bugs.
To prove that true, MCP offered samples of the bed bug spray to Edmonton and Rockford residents and to the rest of the public. And it detailed, those Bed Bug Bully Complimentary Samples are available at its official website MyCleaningProducts.com.