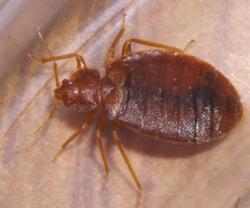 ...it[Bed Bug Bully] offers an effective, quick and easy bed bug treatment...it also makes the whole process truly safe.
Stockton, CA (PRWEB) June 17, 2013
Nowadays, there are so many people suffering from bed bugs. And based on a report from cbslocal.com, the residents of one Stockton low-income housing complex are among of them. Reaching out to help, My Cleaning Products offered them and the rest of bed bug victims a complimentary bed bug spray.
According to the report, the Franco Apartments at El Dorado Street was the specific complex infested by the vampire-like pests, My Cleaning Products shared. It added that it basically provides housing to low-income families and senior citizens and is currently managed by the San Joaquin County Housing Authority.
As stated in the report, the company related that residents of the complex have been complaining about the bed bugs to the housing authority for months already. But officials maintained that they already sprayed on the building several times, it added.
The report said that the authorities believed the fault for the persistent bed bug problem was on the tenants who brought in prostitutes and homeless people with bed bugs in their units, MCP relayed. Nevertheless, they assured that they would continue to investigate the problem and spray the complex, it additionally recounted.
Here is an excerpt from the post Bed Bugs in Stockton Low-Income Housing by My Cleaning Products.
"Bed bugs are some of the worst pests that could ever come to your place. Mainly, that's because they're very difficult to rid. A short time just after a successful bed bug treatment, they could already be infesting your home again. And worse, you may not even know about their return.
The residents of one low-income housing in Stockton are among those people who know how annoying bed bugs could be. That's because according to a report, they were plagued by those vampire-like insects again."
My Cleaning Products said that anyone must not let bed bugs infest a place. Their presence, it stated could bring in bed bug bites, mental instability and financial woes. But those pests are sneaky, it added, so it's possible for their re-infestation to take place.
Because of that, the company asserted that everyone must know how to detect bed bugs early. To do that, it specified that the people must see bed bug pictures for identification, conduct a regular inspection and be cautious of the bed bug symptoms.
Once the pests are found, MCP then emphasized that a personal bed bug treatment must follow up. But it cleared that applicable only if the infestation is not yet massive. If it is, it said that it's better to get a pest exterminator to do the treatment.
In case of a personal bed bug elimination though, it asserted that Bed Bug Bully is the best help to get. It detailed that it offers an effective, quick and easy bed bug treatment. And being a pesticide-exempt bed bug spray under FIFRA 25(b), it added that it also makes the whole process truly safe.
To help those bed bug victims in Stockton and other places, MCP shared that its Bed Bug Bully Complimentary Samples are available at MyCleaningProducts.com.