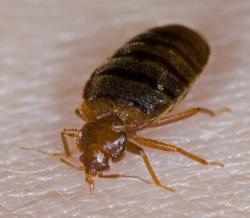 ...it [Bed Bug Bully] is effective without being harmful to health and the environment because it is made with natural ingredients.
Cincinnati, OH (PRWEB) June 27, 2013
Several years since their big return, bed bugs continue to further spread. And based on a report from newarkadvocate.com, the Licking County in Ohio was definitely feeling their ongoing surge. So to help its residents, My Cleaning Products suggested the use of Bed Bug Bully. It also offered samples of it so the public could test it and prove that it is safe and effective.
The director of environmental health of Licking County Health Department said in the report, posted on June 20, 2013, that in Ohio, bed bugs first became a headache in Cincinnati, My Cleaning Products shared. And for the past three years, it added that they advanced and made themselves even more visible up to Central Ohio.
But Jeanne Emmons, infection prevention director at Licking Memorial Hospital related in the report that bed bugs, though a nuisance, are not a threat to health, said MCP. Nevertheless, it related that they make the containment of those pests their first priority in the hospital.
Below is a part of the post Bed Bugs in Licking County on the Rise by My Cleaning Products.
"Bed bugs are not a new problem. They have been a scourge to humans since the ancient times. However, with geographical boundaries now basically non-existent due to the increase in travels everywhere, they are definitely affecting more people today than ever.
Licking County in Ohio is definitely feeling that stronger prevalence of those vampire-like insects. And it isn't the only one. Many more cities and towns across the country, likely even all over world, are facing the same predicament."
MCP said that bed bugs are indeed more prevalent today than before. But even though they are not dangerous to health, it said that they still need to be eliminated. If they are not rid, it stated that they would multiply and cause more bed bug bites and other problems.
So, when bed bugs are sighted, the company said that inspection must then be implemented. And soon after they are located, it emphasized that prompt bed bug elimination must then follow-up.
However, of the several methods to kill bed bugs, My Cleaning Products stated that the use of bed bug spray is the best to implement for a prompt and personal bed bug treatment. That's because it is an easy, quick and cost-effective process, it said.
Among the many bed bug sprays though, MCP only recommended Bed Bug Bully. As it said, it is effective without being harmful to health and the environment because it is made with natural ingredients. In fact, it shared that EPA already classified it as pesticide-exempt under FIFRA 25(b).
To prove it themselves that Bed Bug Bully is indeed effective and safe, the company urged the public to try it. It shared that Bed Bug Bully Complimentary Sample is available to anyone who wants at MyCleaningProducts.com.