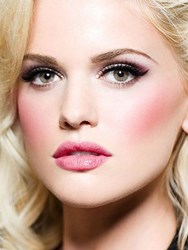 TIGI Cosmetics, formerly known as Bed Head makeup, is an entire line of mineral makeup.
Miami, FL (PRWEB) January 20, 2013
TheBeautyPlace.com is excited to feature TIGI Cosmetics, formerly known as Bed Head makeup, an entire line of mineral makeup. For eyes, lips, face, and cheeks, the updated cosmetics line provides anti-aging benefits while providing just applied freshness all day. Customer top-rated best-sellers are featured.
TIGI Cosmetics High Density Eyeshadow are formulated to go on smooth and last for up to 8 hours. The eyeshadow shades come in single, duo, or quad options and all shades complements each other. Formerly known as Bed Head eyeshadow, the best-selling single shades include Champagne, a nude with a hint of glimmer, ideal for highlighting along the brow bone; Chocolate, a rich, smoky brown ideal for creating smoky eye looks; and Green, a bright green ideal for highlighting brown or hazel eyes. It can be applied wet or dry to achieve intense or sheer looks.
TIGI Cosmetics Glow Blush formerly known as Bed Head Makeup Player Blush are natural-looking shades that appear fresh all day. To select an ideal blush shade, Rebecca, lead beauty consultant, at TheBeautyPlace.com recommends choosing by the name of a shade. "Awaken, is a peachy apricot, for chic days; Lovely is a matte rosy blush shade; Brilliance gives off a bit of glimmer, ideal for accentuating cheekbones, and Haute is an earthy gold.
TIGI Cosmetics Decadent Lipstick formerly known as Bed Head Girls Just Want It Lipstick, have been customer rated as "luxurious" and "multi-purpose". Each lipstick shade goes on smooth due to special moisturizers and antioxidants. They come in a variety of shades and the best-sellers are Fierce, a classic red, Passion, a deep plum shade, Honesty, a silvery lilac, and Faith, a nude with glimmer shade.
TIGI Cosmetics Creme Foundation formerly known as Bed Head Dream Foundation are ideal for quick makeup applications. It is a powder and foundation in one, making it a great concealer and a touch-up powder. It gives medium to full coverage and with antioxidant vitamins A and E they give skin of all types anti-aging benefits.