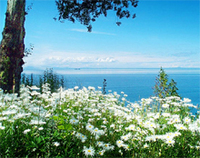 This annual award recognizes world-class innkeepers who have created properties with remarkable romantic environments for couples.
Dana Point, Calif. (PRWEB) February 4, 2010
There is nothing more romantic or memorable than a get-away at an exceptional bed and breakfast inn. The hard part is finding the perfect B&B for the occasion -- until now. For the 17th year iLoveInns.com has selected the Top 10 Romantic Inns from across the United States. These inns are not just chosen for beautiful locations and gracious hospitality, but also for countless other details that add elements of surprise and joy, and that give couples a memory of a lifetime.
As iLoveInns.com President and 29-year bed and breakfast connoisseur Deborah Sakach puts it, "This annual award recognizes world-class innkeepers who have created properties with remarkable romantic environments for couples."
The 2010 Top 10 Romantic Inns:

Hartstone Inn -- Camden, Maine
The Queen Victoria Bed & Breakfast -- Cape May, New Jersey
Clarendon Square Bed and Breakfast -- Boston, Massachusetts
L'Auberge Provencale -- White Post, Virginia
Christopher Place -- Newport, Tennessee
Honeybee Inn -- Horicon, Wisconsin
Whispering Pines -- Dellroy, Ohio
Colette's Bed and Breakfast -- Port Angeles, Washington
Tyee Lodge B & B -- Newport, Oregon
Chateau Coralini Retreat and Spa -- Monterey Peninsula, California
Hartstone Inn in Camden, Maine is a French-style Victorian built in 1835 with country charm in a seaside village. Enjoy cocktails and hor d'oueveres by the fireside each evening of your stay. While coastal Maine attracts seafood-lovers of all varieties, at the Hartstone Inn, you can learn to cook seafood with Chef Michael. If you prefer just to eat, be sure to treat your date with one of his five-course dinners.
The Queen Victoria in Cape May, New Jersey boasts a rich Victorian look and sumptuous detail in four painstakingly restored buildings in the center of Cape May's historic district. Add to your arsenal of skills of loving by taking advantage of the couples instructional massage session. Your private lesson will culminate in two personal 30-minute massages. You'll get homework that you won't mind doing.
Clarendon Square in Boston, Massachusetts is a luxury inn, central to the Back Bay and South End of Boston. With accolades coming in from across the country -- you'll be in good hands in this richly restored 1860's merchant townhouse. The rooftop hot tub -- a full story higher than most of the neighboring buildings -- offers an extraordinary opportunity to gaze at the city lights while soaking. Fenway Park is within walking distance, and what better surprise for your darling sports enthusiast than a pair of Red Sox tickets?
L'Auberge Provencale in White Post, Virginia takes to heart that they are located in the lover's state -- and offers custom-built packages of lovers' indulgences, which of course include everything from chocolate to roses and champagne. French cuisine and well-tended grounds offer a retreat from hectic life. Within driving distance of Washington D.C., the American Heroes Special has proven to be touchingly popular. If you have a question to pop on bended knee, a house-made chocolate box with pulled sugar roses can be provided.
Christopher Place Bed and Breakfast Resort in Newport, Tennessee specializes in romantic retreats and unforgettable celebrations. The estate overlooks the Great Smoky Mountain Park, which provides acres upon acres of tranquil natural beauty from every window. From the moment you book your reservation, every effort is made to meet your needs with unobtrusive hospitality. Guests rave about chef Karen Valentine.
Honeybee Inn in Horicon, Wisconsin is the place to go when you can't wait -- they offer a special elopement package. All-inclusive for up to four guests, this is a way to enjoy getting married without any stress. Then depending on the season, couples can spend lovely quiet moments birding on the largest freshwater cattail marsh in the United States -- or snowshoeing through the Midwest snow.
Whispering Pines Bed & Breakfast in Dellroy, Ohio offers views of glass-like Atwood Lake and the trickle of water falls for immediate soothing. Guests enjoy the spacious, well-appointed rooms, private balconies, chocolate-champagne truffles, fireplaces and Jacuzzis as well as breakfasts that satisfy the most discriminating of foodies. Try the hammock or rent a boat and enjoy postcard-like views from the scenic lake.
Colette's Bed and Breakfast in Port Angeles, Washington is an oceanfront estate nestled between the majestic Olympic Range and the picturesque Strait of Juan de Fuca. Made famous by the epic love story between Bella Swan and Edward Cullen of the Twilight Saga, the Olympic Peninsula offers dramatic coastline and sweeping vistas. Custom getaway packages including in-room fireside massage for two and luxurious suites make for a romantic retreat.
Tyee Lodge Oceanfront in Newport, Oregon has a direct trail down to a secluded beach and offers a s'more's package to go. You may watch the sunset from the gardens while sipping a glass of wine. There are many private areas to discover on the property. Each of the rooms boasts a spectacular view of the ocean as well -- so don't be surprised if you catch sight of a whale.
Chateau Coralini in Monterey Peninsula, California has a history steeped in romance, as the first event ever held at this mansion was a wedding in the late 1880s. When the mansion was restored in 2008, the first event was again a wedding. To honor that tradition, the bride and groom of any wedding hosted at the Chateau are gifted with a complimentary night in the Penthouse Suite.
For more information on the 2010 Top 10 Romantic Inns, visit http://www.iLoveInns.com or use your iPhone and the free "InnTouch" application. The website lists 19,000 inns with many full descriptions, photos, video clips and Web links. Some of this year's Top 10 are also included in the free night program featured in America's best-selling bed and breakfast guidebook: Bed & Breakfasts and Country Inns, 21st edition, which is available online at iLoveInns,com, Amazon.com or in bookstores. Each book contains a free-night certificate that allows travelers to buy-one-night-get-the-second-night free.
Note: For interview appointments, photo requests or general information call Deborah Sakach at 949-481-6256, ext 308. E-mail: dsakach(at)iloveinns(dot)com
http://www.iLoveInns.com
American Historic Inns
31831 Camino Capistrano
San Juan Capistrano CA 92675
Phone: (949) 481-6256, (800) 397-4667
###