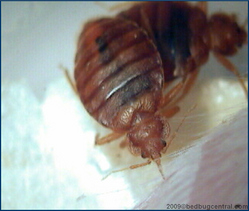 This summit really represents access to the best information available on bed bugs to date.
Lawrenceville, NJ (Vocus) May 20, 2010
BedBug Central, the most authoritative resource available to the public for bed bug information, has announced that registration has officially opened for their 2010 North American Bed Bug Summit in Chicago, IL. This comprehensive summit will be the educational blueprint for industries that are affected by or provide services for bed bugs.
The two-day summit titled, "BedBug University North American Summit 2010" will be held Sep. 21 and 22 at the Hyatt Rosemont. During this 48-hour period, attendees will learn actionable strategies for bed bug control, legal protection, treatment cost containment, and much more with a level of depth never before provided in a single seminar.
In addition to the wealth of information being provided, attendees will be offered an opportunity to sample beers and hors d'oeuvers from across the country during the main vendor exposition.
Phillip Cooper, President of BedBug Central, acknowledges that what makes this conference so unique is the breadth of speakers that will offer attendees an unparalleled opportunity to learn from 14 of the nation's leading entomologists and bed bug specialists alongside the largest gathering of bed bug-industry related vendors.
"This summit really represents access to the best information available on bed bugs to date," said Cooper. "Because we were able to gather the nation's leading bed bug experts and vendors under one roof, this summit will provide a sophisticated level of information to a variety of industries that can be lost in smaller or less specific seminars."
Speakers at Bed Bug University's North American Summit 2010 include: Dr. Michael Potter, Dr. Dini Miller, Dr. Changlu Wang and Dr. Stephen Kells in addition to bed bug legal experts such as Christian Hardigree among many other renowned presenters. For additional information on the roster of speakers, visit http://www.nabedbugsummit2010.com/ .
BedBug University's North American Summit 2010 is designed to speak to industries that are feeling the affects of the bed bug resurgence most acutely. These industries include: university housing, pest management, military housing, shelters and group homes. Through interviews with industry partners and entomologists, Cooper saw an urgent need for a national bed bug summit due to a lack of available information across the hardest hit sectors.
"We saw a need from a wide swath of industries for in-depth knowledge that they haven't received from previous symposia," said Cooper. "Earlier seminars were very well done, but we wanted to create a unique forum for learning that is unlike anything given in the past."
In addition to the speakers, Cooper has assembled the largest exposition of vendors that deliver bed bug related services. Attendees will experience hands-on demonstrations and compare multiple manufacturers so that they make the most informed decisions about who they select as future service partners.
To provide a greater depth of information, the summit is broken into three hour-long seminars where attendees will receive educational information from entomologists and bed bug experts. Attendees will then view presentations from topic-related vendors and learn how to integrate the acquired knowledge into an actionable bed bug protocol or profitable business model.
Attendance is expected to reach capacity quickly. Registration for the summit begins in May 1. Early bird registration is $395.99 per person and regular registration is $449.99. For more information about the BedBug University North American Summit, to request additional information or to register, visit http://www.nabedbugsummit2010.com/ .
About BedBug Central
BedBug Central serves as the nation's most authoritative information resource and website available to the public for information concerning bed bugs and bed bug related issues concerning health, prevention, and treatment methods. More information can be obtained at http://www.bedbugcentral.com/ .
About BedBug University
BedBug University is an intensive learning series that covers bed bug biology and behavior, treatment protocols and explores the unique legal challenges and business opportunities of bed bugs. BedBug University is now being expanded to include other learning opportunities such as the North American Summit 2010 and serves as the educational arm of BedBug Central. The program was developed by BedBug Central entomologists Jeff White and Richard Cooper. More information on BedBug University can be found at http://www.bedbugcentral.com .
###