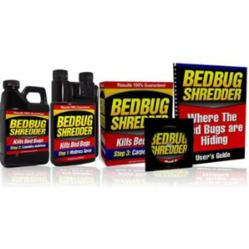 The entire kit contains everything needed to completely treat five rooms for bedbug removal.
Austin, Texas (PRWEB) February 20, 2012
A new report from Planet Amazing outlines the three areas that can be treated to create a "first line of defense" to cure bedbug infestations. The bedbug treatment Bedbug Shredder has been developed by scientists to combine non-toxic powder that stops spreading, non-toxic laundry detergent that treats fabrics, and non-toxic spray that treats all surfaces, forming a complete approach to a bedbug cure.
According to CNN, the cost of removing bedbugs from a house or hotel averages $1,300 per room. "Planet Amazing has lowered the price of treating bedbugs dramatically by launching our five-room system to the market this week for a significantly lower price of $97, and our one room system is $47" says Justin Douglas, expert researcher for Planet Amazing. "Only a few bedbugs can bite someone over 600 times in one night. The bug pumps a poison fluid into the sleeping human's body," he says. "This can cause problems for the victim of bedbug bites. Bedbugs can multiply from only six bugs to over 1,200 bugs in only 90 days, so this is why we are seeing massive infestations of bedbugs in hotels and homes all over America."
The entire kit contains everything needed to completely treat five rooms for bedbug removal. Mr. Douglas says "This is a complete, environmentally safe system for removing bedbugs from any number of rooms that you need. We have packages for only one room, three rooms, five rooms, and other possible combinations. Our company is an EPA registered manufacturer and packager of environmentally safe pesticides, and our products are going to be much better for the environment than other similar products out there. Our bedbug products have several major benefits in that they work, but also because they are significantly less expensive than the high-cost alternative with other systems or hiring pest control companies."
The website at offers a one-room bed bug cure system for $47, three-room bedbug system for $67 and a complete five-room bedbug cure system for $97. All orders come with a 60-day money back guarantee.
For more information, visit the Bed Bug Shredder website to see their new packages.
About Planet Amazing
PlanetAmazing.com is the premier manufacturer and distributor of a wide range of organic and inorganic "GRAS" solutions that anyone…no matter their experience…can use to eliminate real everyday problems.
###