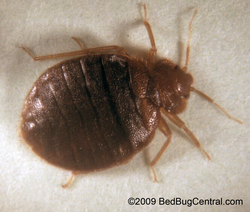 Trenton, NJ (Vocus) July 28, 2010
The New York Mayor's Office and the NYC Bed Bug Advisory Board will be holding a press conference at 2:00 p.m. at City Hall to discuss New York's new bed bug public education initiative. As media-coverage of this story develops, you will likely want access to entomologists that served members of the NYC Bed Bug Advisory Board.
Expert research entomologists Richard Cooper and Jeffrey White of BedBug Central are available to you to provide expert opinions and analysis of the situation as it develops.
As a nationally regarded entomologist, Richard Cooper was appointed to the New York City Bed Bug Advisory Board by Mayor Michael Bloomberg. With more than 20 years of experience in entomology and the pest control industry, Richard has become nationally recognized as an expert on bed bugs and bed bug management. Richard will be available all day for comment and he will also be present at the press conference. Richard has already been featured as an expert in an MSNBC article this week in addition to "Newsweek," "Early Show," "Dateline," NBC's "Today Show."
Our other lead entomologist, Jeffrey White is also nationally regarded and has already spoken with the NBC Nightly News last night. You can find the clip here:
1. Jeffrey's interview: http://www.msnbc.msn.com/id/3032619/#38435058
Jeffrey has over 10 years of experience as an entomologist and his expertise is in bed bug biology, behavior and treatment protocol. Jeffrey has been featured on major news networks such as NBC and CBS. He is also the host of Bed Bug TV; a video blog that addresses a wide variety of topics associated with bed bug. The site been viewed by over 100,000 people around the world.
BedBug Central will available all day to provide you with assistance and access to either of our entomologists.
BedBug Central is a national company headquartered in New York and New Jersey which serves as a resource and website available to the public for information regarding bed bugs and bed bug related issues concerning health, prevention, and treatment methods.
Contact:
Calvin Allen
Public Relations Associate
Mobile: (609) 947-4872
###