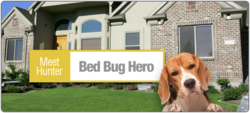 Milwaukee, WI (PRWEB) July 30, 2012
If a Bed Bug infestation is a concern, let Batzner's very own "Hunter", a specially trained scent hound (beagle) comes to the rescue! Batzner's canine service provides scientific detection for live bed bugs and eggs within any property! This unique dog can isolate and target Bed Bugs with 3X the accuracy of human efforts.
Bed bugs are a growing problem in the United States. They are small (less than a ¼ inch) reddish brown in color and flat in shape. They are nocturnal, bloodsucking parasites that attack and bite unsuspecting sleepers during the night causing intense itching and discomfort.
Bed Bugs must be identified quickly before the infestation gets too large and destructive. On average, a female bed bug can lay 10-20 eggs a week!
The first step is accurate detection and identification of the Bed Bug problem and that's where "Hunter" the Bed Bug sniffing dog from Batzner Bed Bug Services Inc helps to solve the problem.
With Hunter's precision nose, the problem is identified and Batzner Bed Bug Services can create a Bed Bug elimination plan specific for every home, apartment, hotel, motel, office, school … any property where a bed bug problem is uncovered.
Batzner Bed Bug Services provides an exclusive 3 step method for getting rid of bed Bugs once and for all:
1. Inspection and Identification
2. Treatment (full range of services: heat, chemical, fumigation)
3. Post Treatment Inspection (re-inspection to verify the bugs have been eliminated)
Batzner Bed Bug Services is a locally owned and operated pest control company serving the Wisconsin and Illinois regions for over 65 years. Batzner's unique bed bug scent canine detection service can solve that Bed Bug problem today.
Call us @ 800-878-2110.