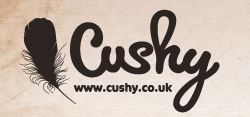 The Online Soft Furnishing Store!
Manchester, UK (PRWEB) May 22, 2013
Cushy, a website dedicated to offering bedding related products at great prices has now launched a new range which is aimed at the wholesale business trade.
Cushy.co.uk is now welcoming trade enquiries for all bedding products for wholesale business.
You can log on to http://www.cushy.co.uk to learn more about their current wholesale pricing.
The products from Cushy may suit everything from hotels to universities, from B&B's to luxury spas. With approved quality inspection, good discounts, and thousands of products in stock, wholesale buyers can order their sample by contacting the firm through their website or over the phone. Reliable and fast service is assured with its own network of delivery vehicles.
Speaking about their range of products, the sales manager of the company stated - "We know the beddings industry inside out. As a family of luxury bedding suppliers, we bring you dreamy duvets, luscious linens, perfect pillows, tantalising mattress toppers and much more. In fact, we're your one-stop online shop for everything bedding-related. All of our products are made to the highest quality standards, and we only source from trusted suppliers."
Wholesale traders who are interested in staying updated about their commercial sales offers and other great deals can sign up for their newsletter on the website.
As far as bedding products are concerned, comfort is of utmost importance, and the sales manager further substantiated this point, commenting - "We never compromise on comfort, but don't have a price tag which will make you lose sleep. Because we are a family company you know we will go the extra mile for you, bringing you the outstanding customer service that only an organisation like ours knows how to deliver. We personally test every product for quality, and if it doesn't make us sleep like babies ourselves, we won't sell it!"
The range of products offered by Cushy includes duvets (feather and synthetic filled), pillows (feather, synthetic filled, memory foam, v-shaped, and cot bed pillows), bed linen (fitted sheets, flat sheets, duvet cover sheets, pillow cases, valance sheets and Egyptian cotton), memory foam mattresses, mattress toppers, mattress protectors and pillow protectors.
Wholesale buyers can check out the wholesale bedding product designs and prices online and place their order on the website directly.
About Cushy.co.uk
Cushy.co.uk offers a variety of high quality bedding products at highly competitive prices. This UK-based firm has years of experience in the field, and now its expanding into the wholesale market.