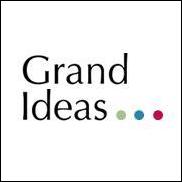 The birth of this company came about from our frustration at not being able to find a place on line where we could buy quality furnishings for our home. We want to be an informative site where people can share ideas and get information about room schemes to inspire them to try something different
(PRWEB) December 15, 2006
Grand Ideas.com is a retailer of quality home furnishings, bathroom products, bedroom products and collectables from an extensive range for all the family.
This unique on line retailer is providing top name brands such as Dorma, Christy, Sandersons and Sia all our prices are below high street and a variety and breadth of range not stocked by any of the major department stores, with over 1000 items in stock.
Grand Ideas not only stocks a huge range of Bedding and Towels, it also provides some very useful free decorating hints, tips, trends and advice. The site also boasts extensive buying guides and has an area for customers to place their own views on the products.
Grand Ideas.com has been co-founded by Lisa Burke and Andy Mee, the successful Online retailing partnership that bought Gameplay for £1 in 2001 turning it around and subsequently selling it for over £2million in 2004. Lisa Burke writes "The birth of this company came about from our frustration at not being able to find a place on line where we could buy quality furnishings for our home. We want to be an informative site where people can share ideas and get information about room schemes to inspire them to try something different"
Andy Mee comments "This is a exciting opportunity for us as we are able to put everything we learned in the turnaround of Gameplay, into a new business that is totally ours from scratch"
###