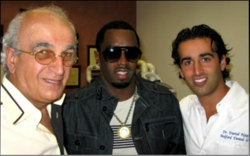 Beverly Hills, California (PRWEB) July 05, 2012
In the past, visiting the dentist was something many people would dread. However, many recent technological innovations in the industry have helped dental practices offer patients a more comfortable experience. To help spread awareness regarding this fact, Bedford Dental Group, a dental practice based in Beverly Hills, has partnered with LAD Solutions, an internet marketing company based in Los Angeles.
One of the newer, and more comfortable, options for increasing patient comfort is porcelain veneers. In the past, patients may have been recommended painful and high-maintenance braces. Porcelain veneers are fitted to the existing tooth structure, instantly covering any chips, stains, or discolored teeth.
For patients who are missing an entire tooth, dental implants are now the common solution. Bridgework has traditionally been used to replace missing teeth, but now dental implants are securely attached to the jawbone. Attaching implants takes a short series of visits to the dentist, and the resulting tooth is cared for in the same way as natural teeth.
For patients who require braces, invisible plastic aligners are the modern solution; better known as invisalign. While braces involved a painful and time-consuming process of gluing metal brackets and attaching them together with wires, clear plastic aligners are carefully designed and fitted for each patient's mouth over the course of just a few dental visits. These aligners can also be easily removed whenever patients need to brush their teeth or eat.
Bedford Dental Group has a team of four experienced dentists ready, willing, and able to change the fearful attitudes most patients have. Individuals in need of the services of a cosmetic dentist in the Beverly Hills area should call the practice during normal business hours.
About Bedford Dental Group: Bedford Dental Group is a Beverly Hills-based general and cosmetic dentistry practice. It has served a number of celebrities and also offers private services to those who request them. People looking for a comfortable experience while remaining safe in the hands of a skilled professional should contact the practice as soon as possible. The practice also offers regularly updated information at its blog.