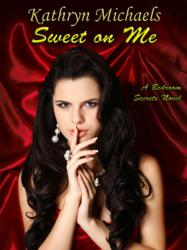 I have done bad things but that doesn't make me a bad person ~ Ophelia Wilde.
(PRWEB) May 23, 2013
Author Kathryn Michaels bares the struggles of a millennium mom who ends up with a sugar daddy in "Sweet on Me," her recently released Bedroom Secrets novel. The book exposes the dilemmas a single mother goes through in these "mutually-beneficial" relationships as the sole financial provider for herself and her children, in an economic climate where employment is scarce and child support is insufficient.
Far fetched? Not really.
In 2011, over $100 billion of child support in the United States was in arrears, leaving approximately 5.76 million unwed mothers without support for their children. The monthly child support payment averages at $430, forcing many single moms to search for alternative means to make ends meet.
So, why not find a sugar daddy?
According to one of the many sugar daddy dating resources available online, nearly 400,000 single mothers are registered on that website alone in search of a sugar daddy, and these single moms receive an average of $2,700 per month in gifts and allowances, making them second biggest demographic after college students.
"Sweet on Me" was written to change the perception that the "mutually beneficial" sugar daddy arrangements result only from college students seeking aid with their tuition. These arrangements have also become an alternative means of income for single mothers, out of desperation and the need to provide for their family. Yet, as mothers, they wrestle with the moral and ethical dilemma of their situation.
In her book, Kathryn Michaels takes the reader through the physical, mental and emotional journey of a single mom who left her abusive spouse and found herself struggling to make ends meet. Unable to land a job and fighting for child support, she unwittingly finds herself in a no-strings-attached sugar daddy arrangement as a means of providing for her family. The question the book poses is, "How does a single mother struggling with similar situations in a tough economy live with the consequences of this arrangement?"
Kathryn Michaels is the author of Bedroom Secrets, a reality-inspired series about millennium moms. Her books are released by Islandreamz Publishing and are available on Amazon, at http://www.amazon.com/Kathryn-Michaels/e/B00AQKP6Y4. For more information about "Sweet on Me" or Kathryn Michaels, please log on to http://www.writemekathryn.com/. Members of the media who wish to review this book may request a complimentary copy by contacting the publisher, Islandreamz Publishing at (416) 275-5195.