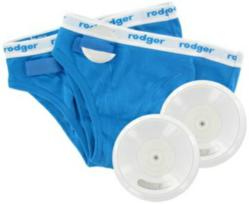 We'd been getting requests from parents for a wireless alarm with two receivers
Ashton, MD (PRWEB) September 18, 2012
This week BedwettingStore.com is introducing the Rodger Wireless Dual Receiver Bedwetting Alarm, the newest innovation by enuresis alarm manufacturer Rodger. "We'd been getting requests from parents for a wireless alarm with two receivers," says pediatric nurse practitioner Renee Mercer. "People want one for their room and one for their child's room." The new Rodger Wireless includes dual receivers as well as an updated, more user-friendly design.
Children who wet the bed are often deep sleepers and won't always wake up to their bedwetting alarm during the first couple weeks of use. In that initial period, it helps if parents can get up with their child. Even after the child has learned to wake up to the sound of their alarm, some parents like to be there to help with changing the bed or anything else that needs to be done. That's why many parents want a bedwetting alarm that will alert both them and their child.
To further ensure its users wake, the new Rodger Wireless offers 8 different alarm tones, allowing parents to choose the sound their child responds to best. For those concerned that their child may start to tune out a specific tone, the alarm can be set to play through the tones randomly. In case that's still not enough, The Bedwetting Store offers a vibrating unit for the Rodger Wireless which can be purchased separately. It connects to the receiver with a nine foot cord and can be placed under the child's pillow or mattress.
"I think the new Rodger Wireless will prove very popular," says Renee. "We've always had great experiences with Rodger."
To prepare for the product launch, the team at The Bedwetting Store has made two videos—one about the Rodger Wireless and one explaining how to pair the two receivers to the alarm transmitter. According to Austin Sheeley, Just Health Shops' videographer and creator of the new videos, "People want to know exactly what they're getting before it comes in the mail. Since they're ordering online, the best way to show them is through video—'Hey, this is what the product is like in action. Here's the sound it makes. Here's how to use it.'"
About BedwettingStore.com
The Bedwetting Store is America's one-stop shop for bedwetting items and waterproof bedding. They have helped tens of thousands of children—and adults—since their start in 2000. They are now the largest distributor of enuresis related products in the United States. The Bedwetting Store is proud to serve the millions of families who seek information and practical solutions to help children stop wetting. They feature a wide assortment of quality products at discounted prices. You'll find their information at your child's pediatrician's office, in many popular parents magazines and on the Web, of course. Just ask your child's health care provider about the Bedwetting Store. If they specialize in treating childhood wetting, they'll likely recommend one of their products.