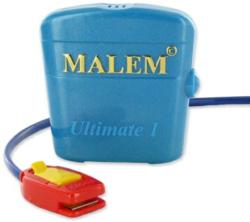 Not all parents realize bedwetting can be stopped
Ashton, MD (PRWEB) August 28, 2012
Bedwetting is a normal part of childhood and nothing to get too worried about. At age 5, 80% of children have developed an adult pattern of urinary control and stopped bedwetting on their own. But that still leaves 1 out of every 5 children bedwetting. Some parents think they have to simply wait it out, or that they don't have any other option. However, the spontaneous remission rate for bedwetting is only 15% per year. This means that if a child is wetting the bed, there's an 85% chance they'll still be wetting the bed a year from now.
"Not all parents realize bedwetting can be stopped," says Renee Mercer, a pediatric nurse practitioner. "Bedwetting alarms are easy to use and a cheap alternative to constantly buying disposable underwear or mattress pads. Plus, they have the highest success rate of any bedwetting treatment."
Numerous factors can contribute to bedwetting but they all come down to the same basic issue—the child's brain hasn't yet learned to respond to the sensation of a full bladder. Bedwetting alarms speed up the natural process by conditioning the brain to respond when wetting's about to occur. At the first drop of urine, bedwetting alarms will sense the moisture and sound, alerting the parents and child so that they can use the bathroom. Soon the child will learn to wake up and use the bathroom before the wetting actually starts.
There are three main types of bedwetting alarm—wearable alarms, wireless alarms, and bell and pad alarms. "Wearable alarms work great for sound sleepers," says Renee, "since they provide both sound and vibration. They also tend to be the most inexpensive style of alarm." Wearable bedwetting alarms are generally attached to the shoulder of a child's shirt, with a thin cord threaded under the shirt to the moisture sensor, located on the outside of the underwear.
For children who don't wear shirts to bed or don't want to wear an alarm, wireless bedwetting alarms are probably the best option. According to Renee, "it's recommended that you plug the sound receiver into a wall outlet on the other side of the room. That way your child has to get out of bed to turn it off." Some wireless alarms have dual receivers, allowing parents to put a second receiver in their bedroom if they want to.
Bell and Pad Alarms are an older style of bedwetting alarm that can also work for children who don't want to wear an alarm. Parents place the moisture sensitive pad underneath their child. The pad is attached to the bed-side receiver via a cord. However, because the sensor isn't attached to the child's underwear this style of alarm takes longer to respond.
"We've found wearable alarms to be the most popular style of bedwetting alarm," says Renee. "But any of them will work. If you have school age children who are wetting, don't think you have to wait for it to resolve itself. Bedwetting alarms can effectively speed up your child's path to dryness."
About BedwettingStore.com
The Bedwetting Store is America's one-stop shop for bedwetting items and waterproof bedding. They have helped tens of thousands of children—and adults—since their start in 2000. They are now the largest distributor of enuresis related products in the United States. The Bedwetting Store is proud to serve the millions of families who seek information and practical solutions to help children stop wetting. They feature a wide assortment of quality products at discounted prices. You'll find their information at your child's pediatrician's office, in many popular parents magazines and on the Web, of course. Just ask your child's health care provider about the Bedwetting Store. If they specialize in treating childhood wetting, they'll likely recommend one of their products.